You are here
Orange to colour campaign against gender-based violence
By Rana Husseini - Nov 24,2014 - Last updated at Nov 24,2014
AMMAN — Orange is the colour scheme for the second consecutive year to mark International Day to End Violence Against Women and the start of the 16 Days of Activism Against Gender-Based Violence Campaign.
The colour orange has been chosen "to symbolise a brighter future without violence against women", according to a statement from UN Women.
UN Women and its partners will hold orange-themed events around the world to raise awareness and show solidarity with survivors of abuse, the statement said.
"The colour orange will be the theme of all future events that are related to the 16 Days of Activism Against Gender-Based Violence Campaign," an official from the UN Women office in Amman told The Jordan Times on Monday.
Several local and international organisations have planned activities during the 16-day period (November 25 to December 10) in collaboration with UN agencies in Jordan. The activities will be announced in the coming days
This year's theme, according to UN Women, is "Orange Your Neighbourhood — End Violence Against Women and Girls Now," aiming to halt the "gross violation of women's human rights that affects at least 1 in 3 women and girls worldwide."
The initiative, led by the secretary general's UNiTE campaign, focuses on local actions towards ending violence against women and girls, while using orange as the uniting colour of all advocacy efforts.
To mark the occasion, UN Women urged media outlets and journalists in Jordan to go "orange" on November 25 to "play their part in raising awareness against violence against women".
The agency asked media outlets to turn their newsroom orange, or wear an orange piece of clothing on November 25, or present stories under an orange banner, and tell people why they are doing so.
"An editorial focus on ending violence against women and girls, no matter where you are and what your outlet, will inform your large audiences, point to successful approaches to end the violence, and provide advice and support or survivors."
The 16 Days of Activism Against Gender Violence is an international campaign originating from the first Women's Global Leadership Institute and sponsored by the Centre for Women's Global Leadership in 1991, according to its organisers.
Participants chose the dates November 25 (International Day for the Elimination of Violence Against Women) and December 10 (International Human Rights Day) to symbolically link violence against women and human rights, and to emphasise that such violence is a violation of human rights.
The 16-day period also highlights other significant dates, including International Women Human Rights Defenders Day on November 29, World AIDS Day on December 1, and the anniversary of the Montreal Massacre on December 6.
The campaign aims at raising awareness about gender-based violence as a human rights issue at the local, national, regional and international levels, and strengthening local work around violence against women.
It also aims at establishing a clear link between local and international efforts to end violence against women, and providing a forum where organisers can develop and share new and effective strategies.
Related Articles
Nov 26,2014
The Jordanian National Commission for Women (JNCW) on Tuesday announced the launch of its activities for the "16 Days of Activism Against Gender Violence" campaign.
Nov 22,2016
AMMAN — "Stop the killing of women and girls" will be the theme of an ongoing campaign that will kick-start the 16 Days of Activism against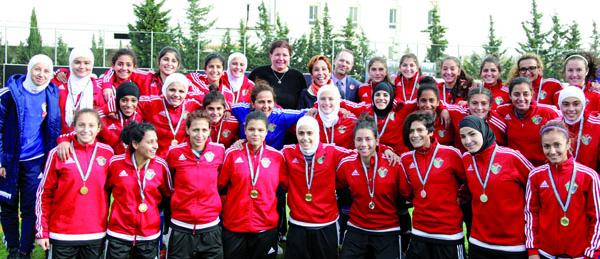 Nov 25,2015
AMMAN — Thirty Jordanian women football players came together for a friendly game in Amman on Wednesday to launch Jordan's activities of the
Newsletter
Get top stories and blog posts emailed to you each day.