You are here
Pandemic pushes up poverty rates in Jordan — study
By JT - Dec 17,2020 - Last updated at Dec 17,2020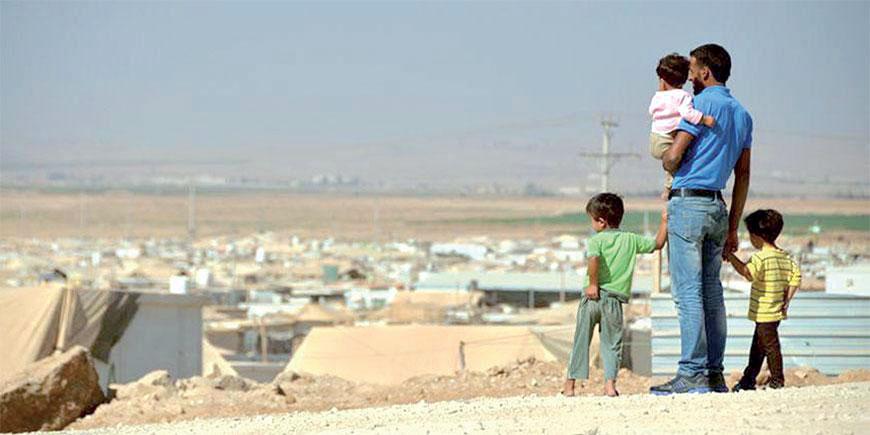 Syrian refugees are seen at the Zaatari refugee camp in Mafraq Governorate, some 80km north of Amman (JT file photo)
AMMAN — The COVID-19 crisis is estimated to have increased poverty by around 38 percentage points (p.p.) among Jordanians, and by 18 p.p. among Syrian refugees, according to a new joint study by the World Bank and the UN Refugee Agency (UNHCR).
The study titled "Compounding Misfortunes — Changes in Poverty since the Onset of COVID-19 on Syrian Refugees and Host Communities in Jordan, the Kurdistan Region of Iraq and Lebanon" was funded by the Joint Data Centre on Forced Displacement and relied on the use of a comparable survey instrument which covered Amman, Mafraq and Zarqa in Jordan, where concentration of Syrian refugees is high.
"This means that at the start of the crisis more than 1.5 million Jordanians living in the three regions covered by this study became newly poor, as did more than 76,000 Syrian refugees," the study noted.
It added that the majority of refugees were already living below the poverty line before the pandemic.
"Already vulnerable before the pandemic, Syrian refugees and their poorer Jordanian, Lebanese and Iraqi hosts have been left with few coping mechanisms, resulting in difficult choices," according to the World Bank, which noted that some 1.8 million live in Jordan, Lebanon and Iraq out of a total of 5.6 million registered Syrian refugees.
The study revealed that the measures taken by the three countries to combat the spread of the pandemic have led to a decline in economic activity across most sectors, particularly in the informal market.
"In Jordan and Iraq, the losses are estimated at around 8.2 and 10.5 per cent of 2019's GDP respectively," the study noted.
The first COVID-19 case was confirmed in Jordan on March 2, 2020 when the country closed its borders on March 19, which subsequently had the government of Jordan issue defence orders that banned non-essential movement nationwide and then closed all economic sectors, according to the study.
The study cites International Labour Organisation Surveys, which found that as many 39 per cent of vulnerable workers were not working anymore after at the beginning of the crisis, 31 per cent of vulnerable Jordanians had been temporarily laid off, 17 per cent permanently laid off, with 41 per cent on paid leave.
In Jordan, 92 percent of refugees surveyed in May 2020 had less than JD50 of savings left. By June 2020, 40 per cent of refugees had debts of more than JD100 per capita, according to the study.
"More than 90 per cent reported resorting to least one negative coping strategy such as reducing meals or expenditure on health and education," it added.
In Jordan, most refugees work in wage labour in agriculture, construction and other service activities, and Jordanians in wage labour predominantly work in professional and scientific jobs and in education, the study noted.
Newsletter
Get top stories and blog posts emailed to you each day.