You are here
Parliamentary elections conclude with 29.9 per cent voter turnout
Three specialised committees formed to oversee vote counting — IEC
By Rana Husseini - Nov 11,2020 - Last updated at Nov 11,2020
A senior citizen casts his vote in the parliamentary elections at a polling booth in Amman on Tuesday (Photo by Amjad Ghsoun)
AMMAN — Around 1.3 million people cast their ballots in the parliamentary elections on Tuesday to elect 130 MPs who would represent them for the next four years.
The Independent Election Commission (IEC) Chief Commissioner Khalid Kalaldeh announced in a press conference at the IEC headquarters that the final number of voters stands at 1,386,749.
The number represents 29.9 per cent out of around 4.6 million eligible voters, according to Kalaldeh.
Polling started at 7am and was scheduled to end at 7pm, however, the IEC decided to extend the voting period until 9pm.
"The committees present at the polling stations will immediately start counting the votes and once the ballots are compiled, we will announce the results," Kalaldeh said.
Kalaldeh said the COVID-19 pandemic was expected to affect the turnout of the voters, especially among the youth.
However, the IEC chief was quick to add that there were no reported incidents of public health order breaches related to COVID-19.
"The government examined the situation carefully before making its decision to proceed with the election to ensure the continuation of the country's democratic process," Kalaldeh said.
The IEC official also spoke about "limited violations that occurred on Tuesday, including the referral of 13 individuals to the concerned authorities for alleged voter impersonation".
He added that the IEC also referred 13 videos to the relevant authorities that were published on various social media platforms or "sent to us by observers that were in violation of the election process".
Kalaldeh also referred to the formation of three specialised committees that were headed by retired judges and public figures, who were distributed in Amman, Irbid and Karak, saying they will also work to ensure a just and transparent election process by checking the preliminary results of the elections.
"Our main concern was to ensure the protection of the election process and the success of the elections, and I believe we succeeded," Kalaldeh stated.
There was a total of 1,824 polling stations, housing 8,080 ballot boxes, while the total number of registered candidates stands at 1,674, including 360 women, according to Momani.
Elections to the 19th Parliament were held following a Royal decree in July, directing the concerned authorities to hold parliamentary elections in accordance with the provisions of law. The Kingdom is divided into 23 constituencies.
Related Articles
Nov 13,2020
AMMAN — Independent Election Commission (IEC) Chief Commissioner Khalid Kalaldeh on Thursday said that two-thirds of the Jordanian voters co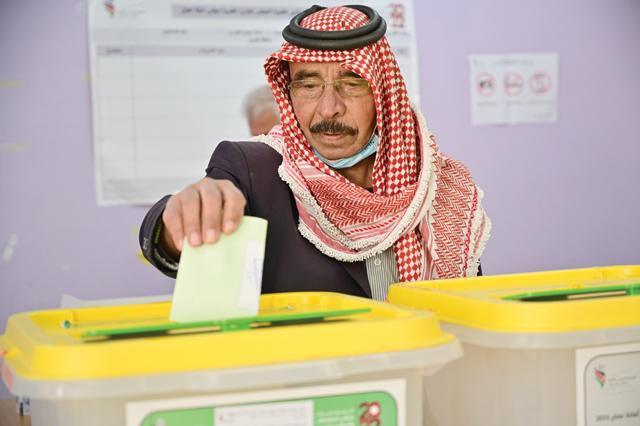 Mar 22,2022
AMMAN — The Independent Election Commission (IEC) on Tuesday said that the percentage of voter turnout in the governorate and municipal coun
Aug 09,2017
AMMAN — While a recent watchdog report denounced the "inefficiency" of using sports halls as voting centres for the upcoming local elections