You are here
Photos offer glimpse into human side of conflict — photojournalists
By Suzanna Goussous - Dec 11,2016 - Last updated at Dec 11,2016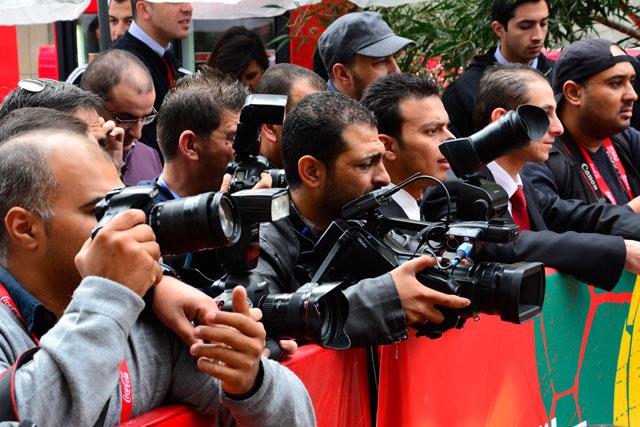 Photojournalists help document key events around the world, photographers said at a recent panel discussion (Photo by Amjad Ghsoun)
AMMAN — Although a tough job, photojournalism is an important medium to document events around the world and to capture the essence of certain moments, by representing the human side of conflicts and depicting events as they are, photojournalists said recently.
Rafael Yaghobzadeh, a French photographer, became more involved in photojournalism and news coverage in 2011, with the eruption of revolutions across the Arab world.
Born into a journalistic family, he started taking photos following the lead of his father, who was a photojournalist at the age of 11.
He started his professional photojournalism career in 2011, when he went to Tunisia and Egypt. He also covered the Taksim Square protests in Turkey in 2013. In 2014, Yaghobzadeh went to Kiev to cover the Ukrainian revolution.
After he had seen the reality of events in rallies, marches and demonstrations, he felt they had to be documented through photos instead of news coverage.
"I've always watched the TV channels, but when I went to Gaza during the war, it was really more about personal experience," the photojournalist explained, noting that he wanted to highlight images from a personal point of view.
He went to Tunisia five days after January 14, 2011, which was when the Tunisian revolution erupted, where he took photos of Tunisians during demonstrations.
In 2013, he visited the Zaatari Refugee Camp in Jordan as his first experience with refugees.
"Journalists and photojournalists became targeted in a way. Every time I face things, I remember that's the game of it, that's how its challenges [are] and how you can't go far because there are limits in order not to lose control," Yaghobzadeh added at a panel discussion organised within the seventh Karama Human Rights Film Festival, which concluded on Saturday.
But for photographer Agnès Montanari, photojournalism is about capturing the social aspect of things — how things work, the internal dynamics of pictures and representing people the way they want to be represented.
"The most important aspect to me is the respect of people. For me, taking pictures is like meeting someone; it's a good opportunity to meet someone you would have never met otherwise… So I want that meeting to be successful."
"At the end of the day, I want to say: 'yes I took pictures but I have met someone and I know who that someone really is'," Montanari said.
Since she moved to Jordan in 2012, the photojournalist said she had been not only interested in documenting events through pictures, but also teaching photography to refugee children.
"Photography sometimes is seen as a tool that takes away the dignity of the people. But when these people [refugees] take pictures themselves, they regain their dignity; they are the only people able to represent themselves."
To people living in crisis, it is "less frightening" when they are involved in the documentation of real-life events through pictures or documentaries, Montanari argued.
"In a way, you have to forget about yourself. You are not you with your character. Try to understand who these people are and share," she added.
"I thought that having a camera would not allow me to meet people. For me, I thought the images were in my head, but a camera is a frightening object, because your face disappears behind it, people don't know who you are," Montanari told The Jordan Times.
When she went to Yemen, the photojournalist said the most difficult part was approaching women. "I've always said being a woman photographer is a huge advantage than being a man… people accept you more, in the Arab world, we have access to both men and women."
"Try to see. To feel with the people, that is what makes the picture eventually different. The time you take pictures, you are alone — you don't talk. You are alone and outside of the scene. Then, there is a time when you put your camera aside and you talk to people."
Related Articles
Apr 10,2017
AMMAN — Zaatari Refugee Camp's children experienced photography as a means to replace the grim circumstances they experienced back home with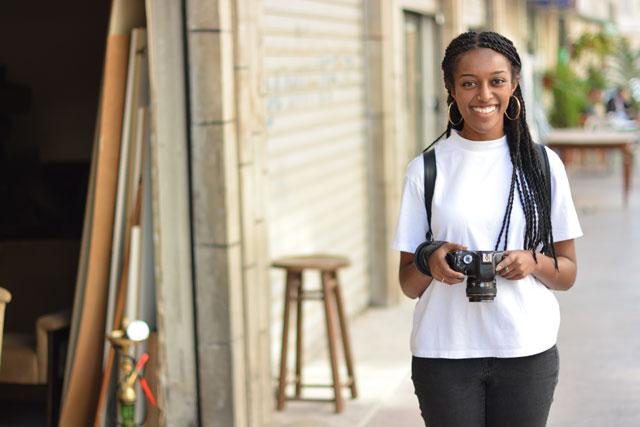 Nov 03,2017
AMMAN — A month ago, Semhal Tsegaye, an Amman-based amateur photojournalist, was scrolling through Facebook when she learned about Women Pho
Jan 12,2017
The digital photography (DP) revolution has not only changed how we take pictures, but how we look at them and what we do with them.The DP r
Newsletter
Get top stories and blog posts emailed to you each day.