You are here
PM issues Defence Order No. 16, further tightening health measures
By JT - Sep 17,2020 - Last updated at Sep 19,2020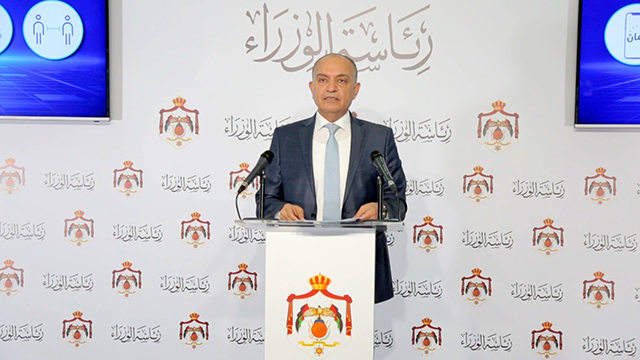 Minister of State for Media Affairs Amjad Adaileh speaks during a press briefing at the Prime Ministry on Thursday (Petra photo)
AMMAN — Prime Minister and Minister of Defence Omar Razzaz has issued Defence Order No.16 of 2020, Minister of State for Media Affairs Amjad Adaileh announced on Thursday.
The defence order comes as a complementary government measure to safeguard citizens' health and well-being. It aims to prevent violations that resulted in spreading the virus and increasing COVID-19 infections during the previous days, Adaileh said during a press briefing at the Prime Ministry.
Defence Order No.16 includes provisions to prevent holding wedding parties and any type of social gatherings that exceed 20 people, as well as holding condolence houses, limiting participation to the minimum level.
According to the new defence order, persons participating in any of the gatherings are required to abide by physical distancing, wearing face masks in addition to avoiding shaking hands. Anyone who violates these regulations will face penalties stipulated under Defence Order No. 11 of 2020, the Jordan News Agency, Petra, reported.
The Defence Order No.16 also stipulates that persons subject to self-quarantine or isolation, when applied, are obliged to abide by the measures and procedures imposed by authorities, including wearing electronic wristbands and downloading electronic application associated with them, and complying with the application's instructions from the concerned authorities and bear all associated costs, he added.
The institutions must not allow any gathering that exceed the permissible number, Adaileh said, pointing out that Defence Order No. 16 stipulates that anyone who holds a gathering in violation of the defence order will face imprisonment ranging from three months to one year, or a fine of no less than JD1,000 and no more than JD3,000, or both penalties.
The owners of institutions who violate the defence order will be issued a fine of no less than JD5,00 and the institution will be closed for 14 days.
The court is allowed to publish the names of those convicted using the means it deems appropriate, Adaileh added.
He said that implementing Defence Order No. 16 does not prevent applying any harsher punishment stipulated in any other legislation, while the order suspends any provision or legislation that violates any provision of the new defence order, according to Petra.
Newsletter
Get top stories and blog posts emailed to you each day.