You are here
Preventive measures best defence against COVID-19 — health minister
Health Ministry to secure COVID vaccine from different sources once ready, says Obeidat
By JT - Dec 01,2020 - Last updated at Dec 01,2020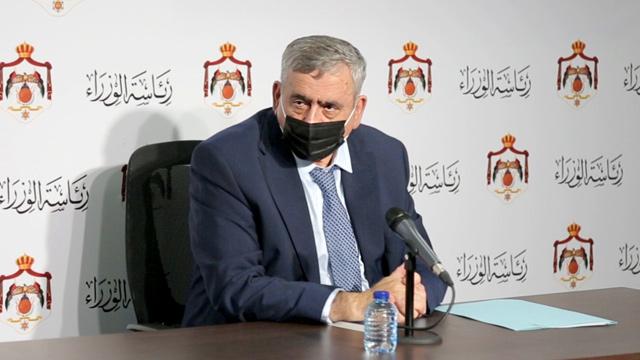 Health Minister Nathir Obeidat speaks during a press briefing at the Prime Ministry on Tuesday (Petra photo)
AMMAN — Health Minister Nathir Obeidat on Tuesday said that the improvement that the epidemiological curve is currently witnessing, although a positive indicator, does not entail the end of COVID-19, the Jordan News Agency, petra, reported.
"The battle against the pandemic is still ongoing. The heroes in this battle are the people themselves and the best defence against the virus is preventive measures," Obeidat said during a press briefing at the Prime Ministry.
In regard to the awaited coronavirus vaccine, the minister noted that, upon Royal directives, the ministry will secure the vaccine from different sources, adding that an agreement was made to purchase the Oxford vaccine, which does not require storage at -80c.
Obeidat stressed that coronavirus-positive patients will be admitted into field hospitals to create more space for patients with other health conditions to be treated into regular hospitals.
The field hospitals will start operating this month, Obeidat noted, stressing that they will be equipped with ICU units.
The minister voiced the cooperation between the Ministry of Health and the Ministry of Finance to manage the budget needed to combat the virus.
Wael Hayajneh, who is in charge of the Coronavirus File at the Ministry of Health, announced in the Tuesday press briefing the construction of a fourth field
hospital in Aqaba.
Hayajneh added that positive cases are common among adults and tend to be less among children since they are currently studying remotely.
In regard to securing beds at hospitals, patients can call 111 or 193, Hayanjeh said, noting that liaison officers are distributed among different hospitals to keep track of the number of empty beds, noting that numbers are electronically updated on a daily basis.
Hayajneh urged the public to adhere to physical distancing and wearing masks.
Newsletter
Get top stories and blog posts emailed to you each day.