You are here
Princess Basma attends National Population Strategy 2021-2030 launching ceremony
By JT - Dec 02,2021 - Last updated at Dec 02,2021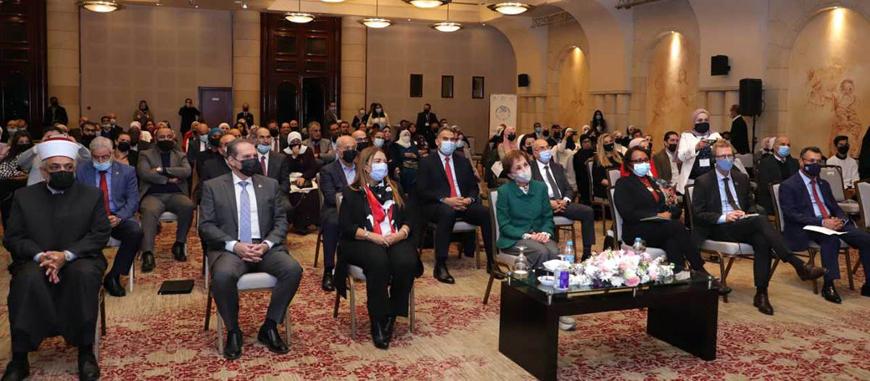 HRH Princess Basma attends National Population Strategy's launching ceremony on Wednesday (Petra photo)
AMMAN — HRH Princess Basma, honorary goodwill ambassador for the UN Population Fund (UNFPA), on Wednesday attended the launching ceremony of the National Population Strategy (2021-2030).
Launched by the Higher Population Council, the UNFPA-supported strategy is part of the council's efforts to identify population-related issues to provide an appropriate environment in support of population policies to enhance citizens' well-being in Jordan, the Jordan News Agency, Petra, reported.
Speaking during the ceremony, Princess Basma stressed that the launch of the strategy comes at a time when the world is facing two major challenges: the COVID-19 pandemic, with its impact on development efforts, and climate change and its accompanying natural disasters.
The global population is nearing 8 billion, with 84 per cent living in developing countries, the princess said.
She added that among the 232 indicators of the Global Agenda's goals for Sustainable Development 2030, there are 100 indicators directly or indirectly related to the environment.
Princess Basma noted that the goals focus on three fundamentals: Control population growth to harmonise population and resources, reduce pressures on natural resources, and change human consumption behaviours to meet the ownership rights of shared natural resources among individuals, groups and nations.
As Jordan enters the second centenary of its founding, the Kingdom needs collective and national action to face all challenges, besides global community cooperation, she said.
She also pointed out that 40 per cent of Jordan's population are under 18 years old, adding that investment in youth needs many resources, plans and programmes.
The princess stressed that maintaining successful policies in the health, education, water, population, environment, and food security sectors, as well as fighting poverty, is the sole way to reach "the demographic window", namely decreasing dependency ratios, expanding the productive age group, and enhancing social protection opportunities.
The strategy is a basic reference document that includes the results, outputs and indicators that Jordan aspires to achieve in cooperation with all partners at the sectorial and national levels.
Newsletter
Get top stories and blog posts emailed to you each day.