You are here
Princess Dana honours work of MaDiH to preserve Jordan's cultural heritage
By Saeb Rawashdeh - Jul 16,2021 - Last updated at Jul 16,2021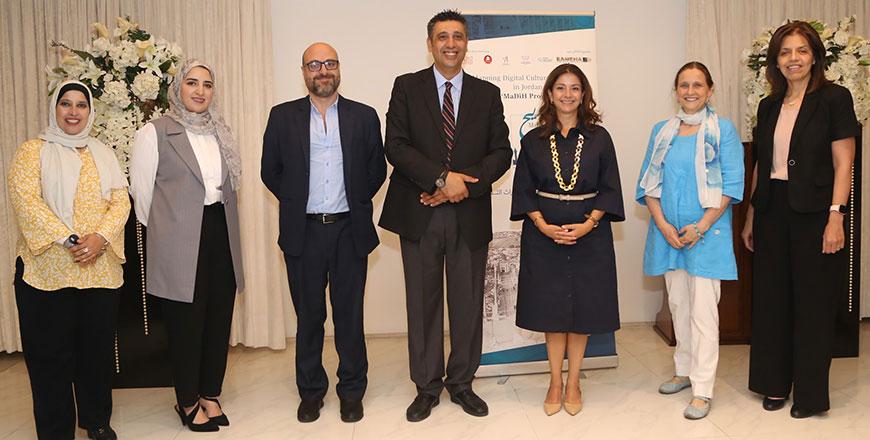 HRH Princess Dana Firas poses for a group photo with the MaDiH team on Tuesday (Photo courtesy of MaDiH)
AMMAN — The MaDiH (Mapping Digital Cultural Heritage in Jordan) project, which ran from February 2019 to April 2020 to enable sustainable development of Jordanian digital cultural heritage, held its closing ceremony in Amman on Tuesday.
The project that witnessed participation of international and Jordanian experts was the joint effort of the King's Digital Lab, the Hashemite University, the Council for the British Research in the Levant, the Department of Antiquities, the Newton-Khalidi Fund, the Jordanian Open Source Association and the Endangered Archaeology in the Middle East and North Africa, according to the organisers.
In her address during the closing ceremony, HRH Princess Dana Firas said: "It was an honour to serve as a chair of the steering committee for this project and I thank you all for giving me this opportunity."
"This initiative has aptly demonstrated the elements of a successful project, a collective mission to preserve cultural heritage, a dedicated and professional team, collaboration between different partners in Jordan and the UK," the princess said.
She highlighted the partnership across sectors, including public, private and civil society and the utilisation of modern technologies and scientific methods focusing on the practical application of research policy.
The MaDiH team worked to harness digital resource documents and present the rich diversity and uniqueness of Jordanian cultural heritage, the princess said.
"It showed the relevance of this work across disciplines including education, public policy, archaeology, heritage and technology," Princess Dana noted.
During the project, Jordanian researchers had the opportunity to exchange ideas and expertise with their British colleagues, said Professor Fadi Bala'wi from the Hashemite University, adding that they discussed different proposals for the best practices to preserve cultural heritage.
"The Ministry of Tourism and Antiquities has provided the project with a massive support," Bala'wi said.
Professor Firas Alawneh from the Hashemite University underlined the importance of a collective database for each sector and its development.
The main aim of MaDiH was to organise all the content on Jordanian cultural heritage under one umbrella and to enable international and local scholars and all interested parties to access, search and explore available information, according to the organisers.
Newsletter
Get top stories and blog posts emailed to you each day.