You are here
Private sector HR managers receive training on respecting workplace diversity
By Dana Al Emam - Dec 21,2014 - Last updated at Dec 21,2014
AMMAN — Private sector institutions should further implement policies that boost gender equality and diversity in the workplace, according to field experts.
In interviews with The Jordan Times on the sidelines of a workshop on diversity and inclusion held late last week by the Business Development Centre (BDC), experts said gender equality and inclusion of minorities in the corporate domain is of benefit to employers and workers.
On gender equity in the workplace, Reem Aslan, consultant on pay equity at the International Labour Organisation, cited a study that suggests having higher productivity rates among female employees, which as a result increases revenues.
Women's involvement in the labour market, whether in full-time or part-time jobs, results in growth in the gross domestic product (GDP) and a drop in poverty rates, Aslan said, noting that laws must further encourage the participation of women.
She pointed to 11 articles in the Labour Law that should be amended to guarantee the rights of male and female workers, including articles on maternity leaves, workplace harassment and workplace crèches, as well as women's freedom of choosing their line of work.
"Employers tend to prefer hiring men... as women tend to quit their jobs after marriage or take maternity leaves," Aslan said, noting that some local private institutions have been implementing "very successful" gender equality measures.
Meanwhile, Eman Okour, head of the economic empowerment of women department at the Labour Ministry, said the Labour Law should stipulate clear penalties against institutions that violate the law.
Nonetheless, the problem does not lie in the law, as the article on crèches at the workplace was endorsed in the 1970s, yet most private institutions do not have nurseries, Okour said.
"The problem is in applying the law," she noted.
Giving female workers their rights, including maternity leave, boosts employees' morale and strengthens their loyalty to the workplace, Okour said.
The two-day BDC workshop, which targeted heads and officers of human resources (HR) departments at several private institutions, trained participants to follow non-prejudice employment methods and to benefit from the skills and experiences of employees regardless of their religious or ethnic backgrounds.
Furthermore, the workshop focused on the significance of providing a suitable work environment for employees with disabilities.
Several private institutions have expressed their interest in hiring persons with disabilities to the Higher Council for the Affairs of Persons with Disabilities (HCD) after Prime Minister Abdullah Ensour's recent instructions on the issue, Haitham Sqour, coordinator of the HCD's training and employment unit, told The Jordan Times on Sunday.
He added that the council has been working on spreading awareness to overcome the stereotypical view on persons with disabilities, adding that employers hire employees who are disabled and possess "great skills and experiences".
Persons with disabilities usually face challenges in accessibility at the workplace, such as suitable offices and restrooms as well as elevators or wheelchair ramps, according to Sqour.
Despite difficulties, HCD has so far participated in five job fairs and events organised by the Labour Ministry, which resulted in the employment of 425 men and women with disabilities, he noted.
"Over 250 persons with disabilities are hired annually," Sqour said, adding that they deserve full integration and equal treatment in the workplace.
Workshop diversity trainer Signe Hinz Andersen said the realisation of gender equity and inclusion of minorities starts on an individual level, and then can be taken to a professional level.
"Everyone has biases and stereotypes," she told The Jordan Times, adding that diversity is achieved once employers challenge these misconceptions.
Andersen called on participants to pass on their knowledge on diversity to their employees and to eliminate all direct and indirect discrimination at their institutions in selecting or treating employees.
Participant Rasha Barakat, an HR manager at a telecom company, said the private sector in Jordan is not lagging behind international recommendations on the inclusion of minorities and persons with disabilities.
"Persons with physical and mental disabilities are competent individuals and are able to perform the required jobs," she told The Jordan Times, adding that the absence of minorities in the workplace is a reflection of their absence in schools and universities.
Participant Abdulqader Karaki, HR director at a private hospital in Amman, said the workshop helped him realise he had a prejudice against people with different skin colour through one of the workshop's exercises, a matter that he wants to change and spread awareness on in his workplace.
However, Karaki said the vacancy announcements and job applications at his workplace do not require applicants to mention their gender, religion or ethnicity.
Related Articles
Dec 07,2017
AMMAN — Discrimination against women with disabilities is affecting their participation in the economic and political life in Jordan, an act
May 19,2016
AMMAN — The Sadaqa Campaign is taking part in the Women Deliver 2016 Global Conference recently held in Copenhagen, Denmark, according to a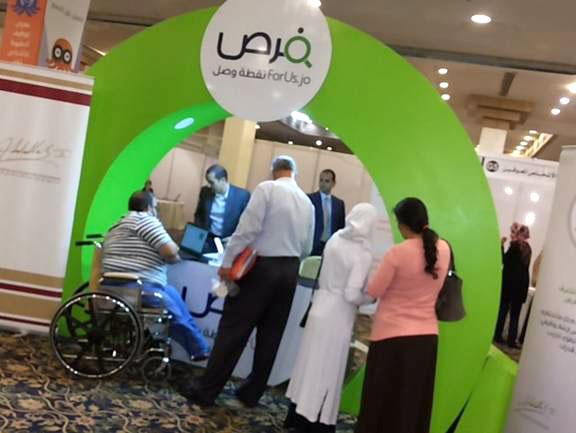 May 09,2016
AMMAN — A job fair to secure employment for people with disabilities opened in the capital on Monday with 50 companies offering 200 vacancie
Newsletter
Get top stories and blog posts emailed to you each day.