You are here
Proceed with measures to establish free public markets, PM instructs authorities
By JT - Feb 22,2020 - Last updated at Feb 22,2020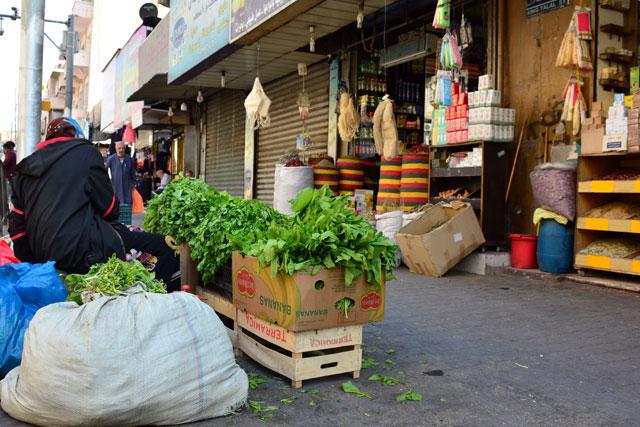 Prime Minister Omar Razzaz on Saturday instructed concerned entities to proceed with measures to establish free public markets, which aim to organise stalls and street vendors located within the boundaries of the Greater Amman Municipality and the municipalities (Photo by Amjad Ghsoun)
AMMAN — Prime Minister Omar Razzaz on Saturday instructed the Ministry of Local Administration, the Greater Amman Municipality (GAM) and the Department of Land and Survey to "immediately" proceed with measures to establish free public markets within the locations identified by these authorities.
Razzaz instructed the three authorities to swiftly start the delivery of infrastructure services to these locations, allocate the municipalities' lands identified by the Ministry of Local Administration and proceed with establishing the public markets.
The planned markets aim to organise stalls and street vendors located within the boundaries of GAM and the municipalities, the Jordan News Agency Petra, reported.
They also aim to limit the negative effects caused by the spread of stalls and street vendors on traffic and urban sectors through the establishment of public markets that contain these stalls, or temporary open markets.
The PM stressed that stalls will be distributed to applicants in accordance with foundations and instructions that guarantee fair distribution and the inclusion of the largest number of beneficiaries.
Razzaz also instructed the three authorities to submit periodic reports of the progress of work every two weeks.
The prime minister at the beginning of February had instructed all municipalities in the Kingdom, through the Ministry of Local Administration, to create market spaces for street vendors to enable them to sell their products without blocking streets and pedestrian walkways.
Vendors would be able to use the space for free or at a nominal fee.
Razzaz confirmed in a tweet that the government is committed to providing lands from the Treasury for this purpose in the event that municipalities are unable to provide land for the markets.
Newsletter
Get top stories and blog posts emailed to you each day.