You are here
Protesters demand full rights for children of Jordanian women married to foreigners
MPs listen to demonstrators, pledge to examine and follow up on matter
By Rana Husseini - Mar 22,2017 - Last updated at Mar 22,2017
Protesters stage a sit-in in front of Parliament on Tuesday calling on the government to grant full citizenship rights to children of Jordanian women married to foreigners (Photo by Rana Husseini)
AMMAN — Over 150 men, women and children on Tuesday staged a sit-in demonstration in front of Parliament, calling on the government to grant full citizenship rights to children of Jordanian women married to foreigners.
"We are here because we want to protest the stalling of government agencies in handling official documents when it comes to children of Jordanian women married to non-Jordanians," said Rami Wakeel, who organised the event on behalf of "My Mother is Jordanian and her nationality is a right for me" campaign.
On February 22, the Council of Ministers gave the concerned authorities 48 hours to process official documentations of children of Jordanian women married to non-Jordanians in line with previous Cabinet decisions and the recommendations of the concerned ministerial committee in 2014.
The call was made during a Cabinet meeting headed by Prime Minister Hani Mulki on government services granted to Jordanian women married to foreigners.
Attending ministers noted the importance of facilitating the provision of services to the children of these Jordanian women, especially when issuing residency permits, applying for driving licences and real estate ownership, as well as availing of benefits in the educational, health, labour and investment sectors.
"Every time we go to a government entity for official documents, they tell us 'we did not receive anything in written form from the government'. It was all verbal instructions that are not acknowledged by any government institute. Obviously there is a big gap here," Wakeel told The Jordan Times.
The demonstrators have staged 75 sit-ins in various parts of the country since the late Nimeh Habashneh started the campaign on Facebook in 2009. Protesters said they returned to the streets on Tuesday to demand full citizenship rights because "the government did not honour its pledges to ease the procedures and because they want full citizenship rights".
A majority of demonstrators complained about their difficulty to obtain work permits or work in many professions, obtain driving licences or to own property.
Others complained about their inability to donate blood to their loved ones, to enrol in public universities, forcing them to enrol in pricey private universities, and highlighted the hurdles and restrictions they face when travelling abroad and reentering the country.
Most protesters said that the identification documents issued by the Civil Status and Passports Department (CSPD) were "useless" and "not acknowledged in many government institutions".
Some explained they are facing psychological trauma because their children are unable to perform their duties as citizens and end up taking it on their relatives as well as strangers. Many women complained of remarks constantly heard when visiting government institutes such as "why you chose to marry a foreigner? You should have married a Jordanian".
The protesters stood for two hours waving placards demanding their full rights as Jordanian citizens. Some of the banners read: "It is my right to live in this country with my mother's citizenship"; "We want our rights that are granted to us by the Constitution"; and "Stop fooling us… the citizenship is our right".
Najah Rashid, who has been married to a Pakistani man for 28 years, told The Jordan Times that her son attempted to obtain a driver's licence, but the official there "told him that the identification card he has is useless because he does not have a national number".
"I really wish they would stop talking about privileges and just give our children our Jordanian citizenship. It will solve all our problems," Rashid told The Jordan Times.
Aisha Ghanam, married to a Syrian for 32 years, said that she became sick and needed blood, but the blood bank refused to allow her son to donate.
"Is our blood polluted or bad? My son is a Jordanian, yet the blood bank refuses to accept his blood because he does not carry a national number. This is neither fair nor right," Ghanam told The Jordan Times.
Meanwhile, Mayada Barghouti, who is married to an Egyptian, questioned the reasons for not applying the premier's instructions "when it comes to our rights".
"The government is quick in applying Mulki's instructions when it comes to raising the prices of commodities. But when it comes to our rights, it is totally ignored. We do not want privileges. We want citizenships for our children," Barghouti told The Jordan Times.
Several deputies met the demonstrators and invited them in to the Lower House where they heard their demands and pledged to help.
During a one-hour meeting with the demonstrators, MPs Khalid Ramadan, Mustafa Yaghi, Dima Tahboub, Faisal Aawar and Qais Zayadin pledged to "examine the best possible means to follow up with the government and make sure that the 'privileges' are provided in the best manner to the children of Jordanian women married to non-Jordanians".
"Women married to non-Jordanians should be able to give their children the citizenship, not only the privileges the government had pledged," Ramadan (Amman, 3rd District) told the gathering.
Deputy Aawar (Zarqa) said they will press the government to "take this matter seriously and implement the decisions".
Meanwhile, MP Zayadin (Amman, 3rd District) stressed that "if we live in a civil state, then we need to give women their full rights. We fully support your rights".
MP Tahboub urged the protesters to continue their sit-ins and "[their] popular movement until demands are met by the government".
In 2014, the government announced that it was granting the children certain "privileges", provided that their mothers had been living in Jordan for a minimum period of five years, and at least 180 days per year, according to the CSPD.
Government officials have previously stated that there were 88,983 Jordanian women married to non-Jordanians, mostly Gazans, and that these families have 355,932 children registered with the CSPD.
Palestinians, except for Gazans, who became refugees after the creation of Israel on Palestinian land, and those who were living in the West Bank when it was occupied by Israel in 1967, have been given Jordanian citizenship.
If no changes are made on the part of the government agencies, "then we will demonstrate in front of the Prime Ministry next week, and, if nothing happens, then we will sit in front of the Royal Court", Wakeel said.
Women's rights activists have been demanding that Jordanian women be allowed to pass on their citizenship to their children and spouses for years, a right that only men enjoy.
Individuals and entities who oppose granting citizenship to family members of these women, particularly those with Palestinian husbands, say such a measure will only lead Israel to implement its "ultimate plan of creating a substitute homeland for Palestinians in Jordan".
Related Articles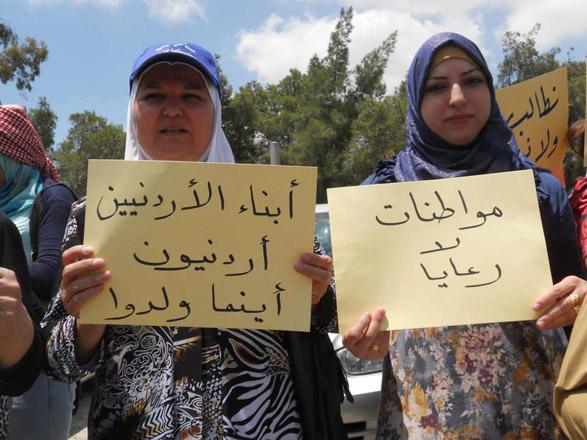 Jul 16,2017
AMMAN — Families of Jordanian women married to non-Jordanians are due to hold a new sit-in demonstration at the Prime Ministry on July 26 to
Mar 27,2017
AMMAN — Activists on Sunday welcomed Parliament's decision to limit the authority of issuing residency to children of Jordanian women m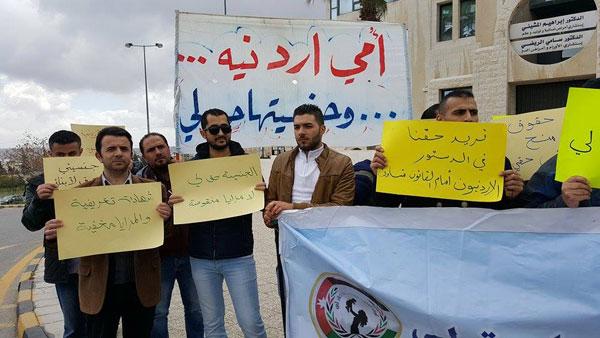 Mar 29,2016
AMMAN — Around 100 people staged a sit-in in front of the Prime Ministry on Tuesday demanding full rights for the children of Jordanian wome
Newsletter
Get top stories and blog posts emailed to you each day.