You are here
'Public agencies taking steps to switch to electric vehicles'
By Mohammad Ghazal - Nov 02,2015 - Last updated at Nov 02,2015
AMMAN — With Jordan laying the foundation for increased adoption of electric vehicles to help slash the national energy bill, usage of the environment-friendly cars is gaining momentum at different public agencies and entities.
The Prime Ministry and the Greater Amman Municipality (GAM) are just two examples of public agencies that started using such vehicles.
Private companies are in the process of building electric car charging stations and scores of such stations will be opened in the next few years.
To encourage usage of these cars, the Cabinet recently decided to exempt electric cars from registration fees, which range between JD8,000 and JD9,000, upon His Majesty King Abdullah's directives to promote the use of these vehicles to protect the environment and lower the energy bill.
"Jordan has started a pioneering multi-phased project to switch the bulk of its public sector fleet to energy-efficient and eco-friendly electric vehicles," a government official told The Jordan Times on Monday.
The project's first phase was launched in October 2015, with the introduction of 300 vehicles, the official said.
"The switch to electric cars in the public sector is a tangible step towards realising King Abdullah's vision for increased use of alternative and renewable energy — a key pillar in Jordan's energy strategy seeking to diversify the country's energy mix, lower its imported energy bill and preserve the environment," added the official, who spoke on condition of anonymity.
Following an assessment of the first phase, the government plans to gradually replace all 20,000 public sector vehicles in service with electric cars, saving an estimated JD25-28 million annually.
Accordingly, GAM will pilot electric-powered public buses and garbage trucks, the official said.
The step comes after Jordan signed memoranda of understanding with Tesla, BMW, Renault and Mercedes on the sidelines of the World Economic Forum meeting on the Middle East and North Africa at the Dead Sea in May.
The official said the adoption of electric cars is in line with the country's national energy strategy to increase reliance on local energy resources, including renewable energy.
The Kingdom, which imports about 97 per cent of its energy needs annually at about 18 per cent of the gross domestic product, has more than 300 sunny days a year.
Wind speeds in the northern region reach as high as 7.5 metres per second and 11.5 metres per second in the east.
Facts on electric cars
• According to feasibility studies conducted during a pilot period, the cost for recharging electric vehicles in households consuming less than 750 kilowatts is between JD2.5 and JD15 per full charge.
• Tested electric vehicles travel 120-400 kilometres per full charge depending on vehicle type, while charging needs between 20 minutes and 8 hours depending on capacity and charger type.
• The journey from Amman to Aqaba costs JD10-JD17 in electric vehicles compared to JD35-50 in gasoline-powered vehicles.
• The first phase of the electric vehicles project is projected to save JD400,000-JD470,000 in fuel and maintenance costs.
• The annual maintenance of gasoline vehicles costs between JD200-JD400 while for electric vehicles it is JD70.
• Electric vehicles are considered environment friendly because of their zero carbon emission, which complements national efforts to decrease greenhouse emissions by 14% by 2030.
Source: official figures
Related Articles
Dec 14,2015
AMMAN — Electric cabs will be offering rides on the country's streets as of the end of this week, according to Noor Jordan for Transport — T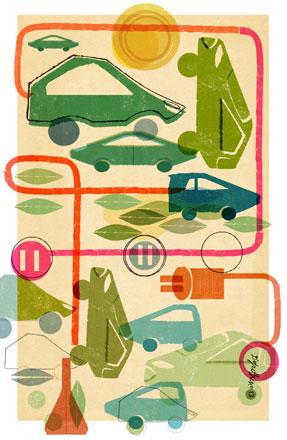 Apr 17,2016
AMMAN — Electric and hybrid taxis offering rides on the country's streets will charge fares that are at least 25 per cent less than gasoline
Sep 30,2015
AMMAN – Driving an electric car would cost motorists in Jordan around JD7 in electricity for a 400-kilometre trip, according to calculations
Newsletter
Get top stories and blog posts emailed to you each day.