You are here
Queen joins thousands of Jordanians in unity march for Kasasbeh
By Muath Freij - Feb 07,2015 - Last updated at Feb 07,2015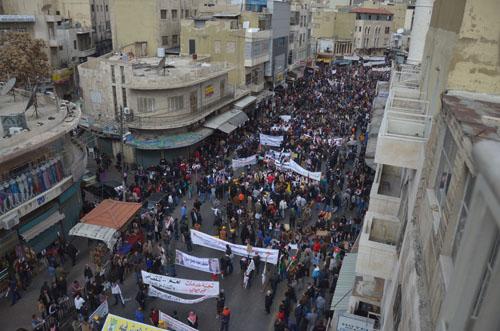 AMMAN — Her Majesty Queen Rania joined thousands of Jordanians who marched in downtown Amman on Friday to condemn the killing of Jordanian pilot Muath Kasasbeh and to express support for his family.
Participants attended the Friday sermon, performed noon prayer and walked from Al Husseini Mosque to Al Nakheel Square in a show of unity.
They waved the Jordanian flag, carried photos of His Majesty King Abdullah and Kasasbeh, and held banners and placards with slogans of solidarity with the pilot's family.
Tariq Amer said his wife and three children decided to take part in the march to condemn the killing of Kasasbeh.
"My family and I decided to walk in downtown Amman against the terror acts committed by Daesh [the Arabic acronym for the so-called Islamic State (IS) group]. It has to be destroyed as soon as possible by all Arab nations," Amer told The Jordan Times as he waited for the rally to begin.
He stressed that Jordan has to launch more air strikes to demolish Daesh.
His wife, Abeer Abu Qweider, said she — as a mother — hopes that Kasasbeh's mother did not watch the video released by IS, purportedly showing the pilot being burned alive.
"When I received a link to the video I watched it because I did not imagine it would be such a cruel act. I immediately deleted it. This act is not even remotely human; no human being can be so brutal," she added.
IS released the video last Tuesday, but the government said Kasasbeh, who was captured by the group when his F-16 crashed in Syria last December, had been dead since January 3.
Abu Qweider said participating in the march was the least she could do.
Her 14-year-old son, Omar, said he was furious after he heard about the pilot's death.
"He is like my brother. At my school, we brought together all the traditional Jordanian headdresses and wrote on them 'The martyr Muath'," Omar added.
Firas Abbadi, the secretary general of the Shura Party, said its members took part in the event because they wanted to convey a message.
"We wanted to show that all Jordanians stand united and what Daesh did is simply a terrorist act that has no relation to Islam or Muslims," Abbadi added.
He noted that hardships strengthen Jordanians further and boost their unity.
Yahia Khirfan described the rally as a "show of unity".
"After Muath's death, my son is ready to serve the country [in his place]. We will avenge Muath and we support the government in continuing to strike Daesh," Khirfan said.
Related Articles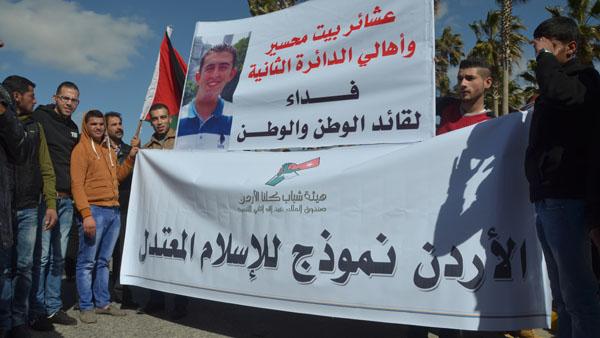 Feb 05,2015
Azzat Aneizat came all the way from the northern Governorate of Ajloun to Queen Alia International Airport (QAIA) on Wednesday to receive His Majesty King Abdullah and express solidarity with the family of air force pilot Muath Kasasbeh, who was murdered by the so-called Islamic State (IS).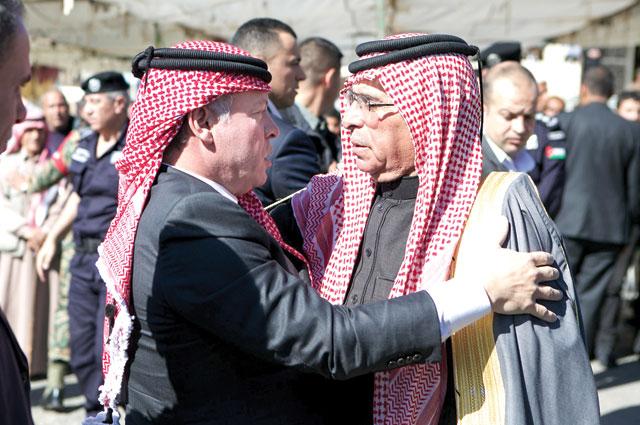 Feb 05,2015
His Majesty King Abdullah on Thursday visited the town of Ai, near the southern city of Karak, to offer condolences to the family of air force pilot Muath Kasasbeh, who was killed by the so-called Islamic State (IS) terrorist group. 
Feb 06,2015
The burning alive of a Jordanian pilot by the Islamic State (IS) group has shocked and angered Jordanians, uniting them behind their government's vow to intensify its military action against the jihadists.
Newsletter
Get top stories and blog posts emailed to you each day.