You are here
Queen Rania attends Amman Design Week opening reception
By JT - Aug 30,2016 - Last updated at Aug 30,2016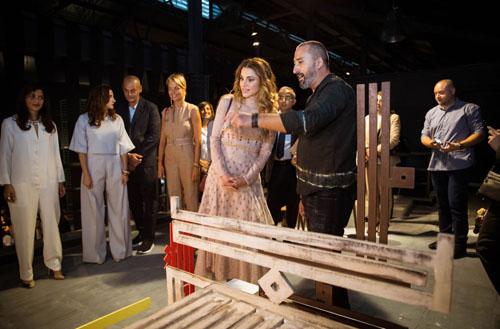 Her Majesty Queen Rania attends an opening reception of Amman Design Week at Ras Al Ain Gallery and Hangar in downtown Amman on Tuesday (Photo courtesy of Royal Court)
AMMAN – Her Majesty Queen Rania on Tuesday inaugurated the first iteration of Amman Design Week (ADW), in an opening reception at the Ras Al Ain Gallery and Hangar in downtown Amman.
The reception was attended by members of the Royal Family, Amman Mayor Aqel Biltaji, as well as foreign dignitaries, and ambassadors, a statement issued by Her Majesty's office said.
The Queen toured the exhibition hall and listened to designers explain the concepts behind their displays and designs.
Amman Design Week opens its doors to the public from September 1 to September 9.
An initiative by Her Majesty, the event is organised in collaboration with the Greater Amman Municipality, and sponsored by Al Manaseer group, Zain, Aramex, and Al Markaziya, Lexus exclusive dealer in Jordan.
Commenting on the official launch, ADW Co-Director Abeer Seikaly said: "We are proud to launch an event of this magnitude for the first time in Jordan. We were inspired by Her Majesty's passion for creativity and innovation that enables us to deliver a platform that will bring together more than 100 local and regional designers to kick start a public conversation about design in Jordan."
ADW is kicking off at three central locations in downtown Amman, chosen for its ability to combine the city's heritage and modernity, while addressing its lack of creative ideas that promote the use of various spaces. It starts with The Hangar Exhibition at Ras Al Ain Hangar, the MakerSpace at Jordan Museum, and through to the Crafts District at Raghadan Tourist Terminal.
Also commenting at the opening reception ADW Co-Director Rana Beiruti said ADW will expose Jordanians to the "enormous" capabilities of the Jordanian youth, adding it will elevate Jordanian designers on the international podium, while opening doors of communication and exchange of expertise with their intercontinental peers.
ADW opens with a design exhibition presenting selected works by a new generation of experimental designers. The Hangar Exhibition, curated by architect Sahel Hiyari, explores ideas of locality and showcases work by designers, who challenge the understanding of design and its ability to push the boundaries of material and function.
Hiyari said: "ADW's varied activities aim to show ideas that have local characteristics that challenge design norms, and render it as not only a tool to solve problems, but as a mean for expressing cultures."
The MakerSpace is located in the Jordan Museum, where visitors can explore and interact with modern digital fabrication tools and innovative technologies, including 3D printers, audio-visual devices and advanced robotics.
The Crafts District at the Raghadan Tourist Terminal displays the works of design pioneers and craftspeople, who continue to inform and inspire contemporary design practices today. These include weaving, embroidery, ceramics, and pottery, offering a strong link to Jordanian national and cultural heritage.
The district aims to revive the Raghadan Tourist Terminal as a social space for crafts and celebrate Jordan's craftspeople, who have kept their methods and aesthetic values alive, inspiring today's contemporary design practices.
The exhibition will feature craftspeople from across the country and their collaborations with designers.
ADW will also be an educational experience for all, said the statement, adding it will offer a series of workshops, ranging from introductory level sessions for the general public, to intensive learning experiences for designers wishing to expand their horizons and hone their skills.
These specialised workshops focus on capacity building and production.
In addition to more than 100 activities and exhibitions at the Hangar and the Jordan Museum, the event will hold workshops and talks across 40 spaces around the city, offering visitors the opportunity to interact with designers and modern digital technologies, according to the statement.
ADW also provides specialised activities for children and young people that cultivate design thinking among younger generations. The activities include workshops in crafts, as well as hands-on activities focused on the exploration of different materials and tools.
Amman Design Week will host the work of more than 100 local and regional designers and is expected to attract 10,000 visitors.