You are here
Ramadan sales lowest in 10 years — ACC
By JT - Apr 18,2021 - Last updated at Apr 18,2021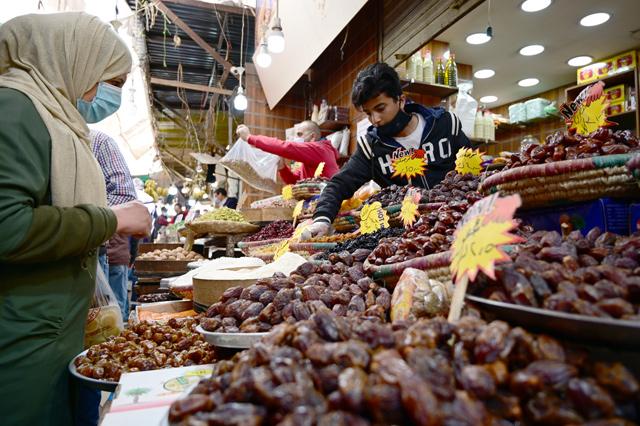 A woman buys dates, a Ramadan staple, from a shop in downtown Amman, in this recent photo (Photo by Amjad Ghsoun)
AMMAN — President of the Amman Chamber of Commerce (ACC) Khalil Haj Tawfiq, who is also the Head of the General Association for Foodstuffs Merchants of Jordan (GAFJO), on Saturday said that the current Ramadan sales are at their lowest in 10 years, after witnessing a 50 per cent drop due to the pandemic.
In a statement carried by the Jordan News Agency, Petra, Haj Tawfiq said that the commercial sector has been "staggered" by low sales since the first days of Ramadan.
He attributed this to the partial curfew hours that exhausted merchants, and the decline in purchasing food and basic products despite existing price reductions and offers.
He added that the prices of food, supplies and basic materials are stable, except for the high prices of local poultry.
He pointed out that the offers on products were the largest this Ramadan, as a result of the increase in the number of shops, and their use of social media for promotion and marketing.
Stressing merchants' concern over the continuation of the partial curfew, he called for allowing home delivery after Iftar from food stores, bakeries and water stations.
Newsletter
Get top stories and blog posts emailed to you each day.