You are here
Royal Film Commission issues safety guidelines for filming in Jordan
By JT - Jun 22,2020 - Last updated at Jun 22,2020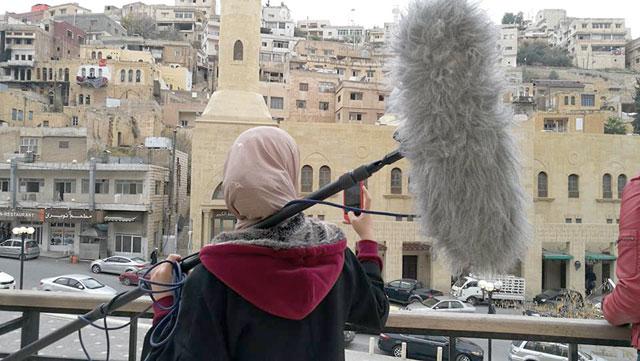 Crew members are required to undergo health and safety awareness training prior to filming under guidelines issued by the Royal Film Commission detailing measures to limit the spread of the coronavirus during filming in Jordan (Photo courtesy of Royal Film Commission)
AMMAN — The Royal Film Commission (RFC) has issued guidelines for the audio-visual sector detailing safety and precautionary measures to limit the spread of the coronavirus during filming in Jordan.
The guidelines, published by the commission on the Ministry of Labour's website earlier in June, aim to secure a safe working environment for local and foreign productions filming in the country during and after the COVID-19 pandemic, the RFC said.
In a statement on Monday, the commission said that it had conducted an "extensive" study on international procedures implemented in the audio-visual sector during the current global health crisis. The results of the study were reflected in a series of protocols and guidelines to regulate the work of local and foreign productions permitted to shoot in the Kingdom.
All necessary preventive measures were approved by the ministries of Health and Labour, the statement said.
The requirements include conducting COVID-19 tests, maintaining physical distance, minimising the number of people on set, organising arrivals and entry to sets, providing suitable accommodation for film crews and optimising hygiene and cleaning requirements, as well as practising precautionary measures such as wearing masks and emergency procedures.
Crew members are also required to undergo health and safety awareness training prior to filming, and productions must assign a health and safety supervisor — accredited by the Ministry of Labour — to monitor the implementation of procedures.
Mohannad Al Bakri, the RFC's managing director, commented in the statement: "In the past few months, we have exerted great efforts to develop a system of protocols and procedures in order to resume the audio-visual activity in the Kingdom. While we strive to restore both local and international filming in Jordan because of its vital economic impact, we are fully committed to adhering to public safety measures."
"Our work is in line with the success achieved by governmental measures, which have reduced the number of infections and virus hotspots within the country. We look forward to resuming productions, including foreign ones," he said.
During the past three months, six TV and cinema projects were completed, while four Jordanian productions are currently being shot, in addition to a number of commercials and documentaries, the statement said, adding that these projects had "committed in writing to follow the government's safety instructions".
Foreign crews will follow the country's decisions regarding air travel as well as regulations for entering the Kingdom. The guidelines include recommendations for international productions planning to film in Jordan.
At the beginning of July, Jordan will again welcome a "big Korean production", which had suspended its activities due to the pandemic but will resume filming according to health measures.
Eligible productions filming in Jordan can benefit from a cash rebate ranging between 10 per cent and 25 per cent, in addition to tax and customs duties exemptions, the statement concluded.
Newsletter
Get top stories and blog posts emailed to you each day.