You are here
Safadi, US' Pompeo emphasise need for cooperation in face of pandemic
By JT - May 29,2020 - Last updated at May 29,2020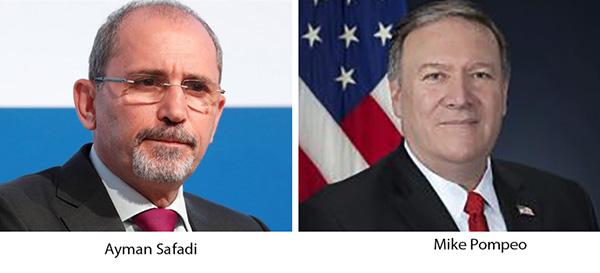 AMMAN — Foreign Minister Ayman Safadi and US Secretary of State Mike Pompeo on Thursday highlighted the importance of cooperation in facing the COVID-19 pandemic and its economic repercussions, with talks also covering means to enhance the strategic partnership between the two countries.
Safadi reiterated the significance of the US' role in creating effective international action plans to deal with the economic consequences of the pandemic, according to a Foreign Ministry statement.
The minister also expressed the Kingdom's condolences over the loss of more than 100,000 US citizens who have died of the coronavirus.
The two officials discussed prospects for developing Amman-Washington ties in all fields, stressing the "solid and distinguished" partnership in economic, investment, commercial and defence fields.
Safadi also commended the "important and continuous" support that the US presents to Jordan, thanking his US counterpart for the steps he has taken to expedite procedures to deliver financial support under the aid programme to help the Kingdom deal with the pandemic and its economic repercussions.
They also reviewed regional developments, especially those related to the peace process and the Syrian crisis, and discussed efforts exerted to reach solutions to these crises and realise security and stability.
Safadi stressed that a just and comprehensive peace is an Arab strategic option that Jordan will always seek to realise, reiterating the Kingdom's stance that opposes any annexation of Palestinian territories, a step that would only undermine peace opportunities.
He also noted that Jordan's position calls for joining efforts to launch "serious and direct" negotiations based on the two-state solution, the only means to realising the just and comprehensive peace needed for regional and international security and stability.
Safadi and Pompeo also agreed to continue cooperating to develop bilateral ties and coordinating to address regional challenges.
Related Articles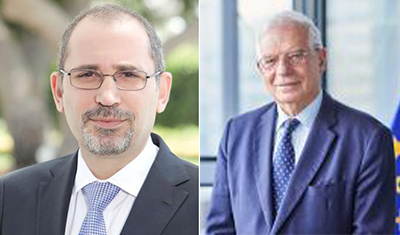 Jul 16,2020
AMMAN — Jordan on Thursday highlighted the important role of the European Union in averting the implementation of the Israeli decision to an
Apr 21,2020
AMMAN — Foreign Minister Ayman Safadi and his German counterpart Heiko Maas on Tuesday held a political consultation to further enhance Jord
Feb 11,2021
AMMAN — Deputy Prime Minister and Foreign Minister Ayman Safadi and his Canadian counterpart Marc Garneau on Thursday held talks that focuse