You are here
Safadi, US delegation review efforts towards Syria political solution
By JT - Jun 25,2019 - Last updated at Jun 25,2019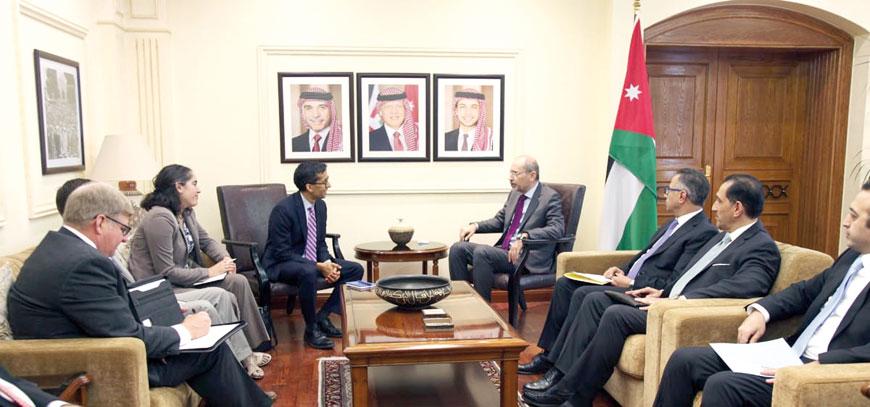 Foreign Minister Ayman Safadi meets with the US Congress panel known as the 'Syria Study Group' on Monday (Photo courtesy of Foreign Ministry)
AMMAN — Foreign Minister Ayman Safadi and a US delegation on Monday discussed the efforts made to reach a political solution to the Syrian crisis.
During the meeting with the US Congress panel known as the "Syria Study Group" (SSG), chaired by Michael Seng, Safadi stressed that finding a political solution to the Syrian crisis and easing the suffering of the Syrian people is an international and regional necessity, according to a Foreign Ministry statement.
The minister underscored the importance of intensifying the international community's efforts to arrive at a political solution to the Syrian crisis that would preserve the unity and cohesion of Syria, is accepted by the Syrians and provides appropriate circumstances for the return of Syrian refugees to their homeland.
Reiterating that refugee support is an international responsibility, Safadi acquainted the visiting delegation with the pressure the Kingdom is facing due to hosting some 1.3 million Syrian refugees, reaffirming the need of the international community's support to help address some of the challenges arising from the refugee influx.
Jordan, on behalf of the international community, is currently fulfilling its responsibility towards refugees as well as withstanding extraordinary pressures, which requires extraordinary international support to shore up the Kingdom's efforts to confront the economic challenges stemming from the refugee crisis, the top diplomat added.
The only solution to the Rukban camp, near Jordan's north-eastern border with Syria, lies in the return of its residents to their hometowns, he reaffirmed, noting that the camp is Syria's responsibility rather than Jordan's, as aid delivery via Damascus is now possible.
Talks also went over the importance of international cooperation and coordination to counter terrorism, which still poses a security and ideological threat that requires intensified international efforts to be fully eradicated.
The minister commended the Jordanian-US partnership and the advanced bilateral ties between the two countries, according to the statement, while the US delegation tasked with developing a comprehensive strategy on Syria, hailed the Kingdom's humanitarian role towards Syrian refugees and its role in promoting regional stability.
Newsletter
Get top stories and blog posts emailed to you each day.