You are here
Saudi Jordanian Investment Fund holds its annual general assembly meeting
By JT - Apr 22,2021 - Last updated at Apr 22,2021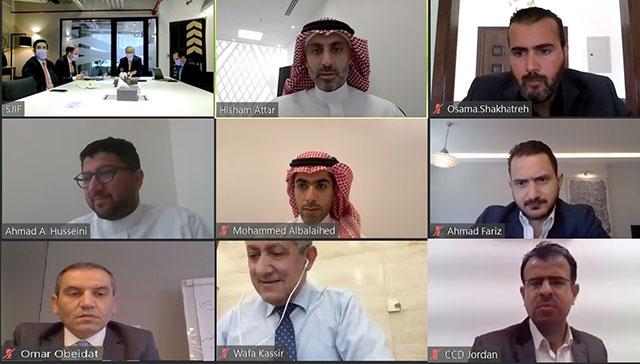 The Saudi Jordanian Investment Fund held its fourth annual general assembly meeting on Thursday, via teleconference (Photo courtesy of SJIF)
AMMAN — The Saudi Jordanian Investment Fund (SJIF) held its fourth annual general assembly meeting on Thursday, via teleconference, in compliance with the Defence Law No. 13 of 1992, Defence Order No. 5 of 2020, and the instructions issued by the Minister of Industry, Trade and Supply on April 9, 2020.
The meeting was chaired by SJIF Chairman Hisham Attar, and attended by all of the company's shareholders, its board of directors and senior management, as well as the Companies Controller Department representative, and the company's external auditors, Ernst & Young, according to a SJIF statement.
The shareholders, during the meeting, were briefed on the progress of SJIF's investment projects. Attar highlighted that the company is in the final stages of launching its first projects, particularly in the healthcare and technology sectors.
In his remarks, Attar noted that due to the progress in its investment project, the company increased its authorised capital to JD100 million in November 2020.
He reaffirmed the company's commitment in pursuing value-added investments in Jordan and contributing to Jordan's economic growth, while fulfilling the vision of the leadership of the two countries to enhance joint economic cooperation, the statement said.
The general assembly meeting further discussed and approved the board of directors' report and the audited annual financial statements for 2020.
The general assembly also approved absolving the board of directors from liability for the fiscal year ending December 31, 2020, and the appointment of KPMG as the external auditors for the fiscal year 2021.
The Saudi Jordanian Investment Fund is a Jordanian Limited Public Shareholding Company formed in 2017 as a partnership between the Public Investment Fund of Saudi Arabia, which owns 90 per cent of the company, and 16 Jordanian banks, which own the remaining 10 per cent, according to the statement.
The company was registered per the Jordan Investment Fund Law No. 16 of 2016, and its formation was an outcome of the Saudi Jordanian Cooperation Council and the MoU signed between the Public Investment Fund of Saudi Arabia and the Jordan Investment Fund on August 25, 2016.
The company's Memorandum of Association and Articles of Association were signed during the visit of the Custodian of the Two Holy Mosques King Salman Bin Abdulaziz Al Saud to Jordan on March 27, 2017, in the presence of His Majesty King Abdullah, at the Royal Hashemite Court in Amman.
SJIF's investment strategy focuses on three verticals: Infrastructure projects based on public-private partnership framework, strategic sectors including healthcare, technology and tourism, and growth capital investments through supporting the expansion of promising Jordanian companies, concluded the statement.
Newsletter
Get top stories and blog posts emailed to you each day.