You are here
Senate president, House speaker meet head of Azeri National Assembly
By JT - Jul 02,2022 - Last updated at Jul 02,2022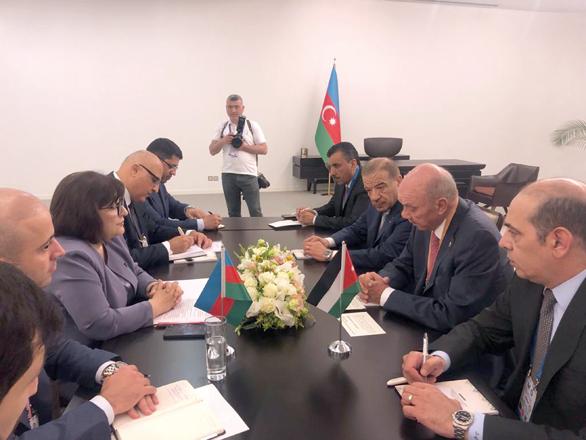 Senate President Faisal Fayez and Lower House Speaker Abdulkarim Dughmi meet with President of the National Assembly of Azerbaijan Sahiba Gafarova in Baku on Saturday (Petra photo)
AMMAN — Senate President Faisal Fayez and Lower House Speaker Abdulkarim Dughmi on Saturday met with President of the National Assembly of Azerbaijan Sahiba Gafarova on the sidelines of their participation in the Baku Conference of Non-Aligned Movement Parliamentary Network.
The meeting focused on bolstering bilateral relations in various fields, especially political, economic and investment as well as increasing trade and joint parliamentary work, the Jordan News Agency, Petra, reported.
Fayez praised the depth of bilateral relations, which His Majesty King Abdullah and President Ilham Aliyev are keen to develop.
Dughmi expressed Jordan's keenness to increase bilateral cooperation to serve common interests and unify efforts in various parliamentary forums on various issues of common interest.
The meeting, which was attended by the Jordanian ambassador to Azerbaijan Sami Ghosheh, dealt with regional issues, especially those related to the Syrian crisis, the Arab-Israeli conflict and combatting terrorism.
Fayez said that Jordan faces new challenges represented by attempts of militias loyal to regional countries to smuggle drugs and weapons to Jordan and the Arab Gulf countries through Jordan, taking advantage of the withdrawal of Russian forces from the border shared with Jordan, according to Petra.
Fayez stressed the importance of international support for Jordan to enable it to continue its pivotal role as an advocate of peace, combating terrorism and extremism.
He called for increased investment, especially in the fields of transport, renewable energy and tourism.
On tourism, Fayez stressed the importance of increasing the number of Azeri tourists to Jordan, noting that Jordan has archaeological, historical, religious and therapeutic sites.
Fayez and Dughmi called for permanently listing the Palestinian cause on the agenda of the Non-Aligned Movement Parliamentary Network, stressing the need to unite the efforts of the Non-Aligned Countries to find a just and comprehensive solution to the Palestinian issue in accordance with international resolutions.
Gavarova expressed pride in the Azeri-Jordanian, praising the great role that Jordan plays, under the leadership of His Majesty King Abdullah, in serving Syrian refugees.
She also lauded the King's endeavours to end the region's conflicts and restore security and stability to it, valuing Jordan's standing by the international community in the fight against terrorism.
Azerbaijan, as head of the movement, will continue its political and parliamentary role in defending the interests of the movement in light of global changes, she stressed.
Similarly, Fayez met with a number of parliamentarians participating in the Baku Conference including Egyptian Senate President Senate Abdel Wahab Abdel Razeq, Moroccan Lower House Speaker
Rachid Alami and Kuwaiti National Assembly Speaker Marzouq Ghanim.
The separate meetings focused on bilateral relations and regional developments.
Newsletter
Get top stories and blog posts emailed to you each day.