You are here
'Shams Maan solar project to start generating power in September 2016'
By Mohammad Ghazal - Jun 09,2015 - Last updated at Jun 09,2015
AMMAN — Jordan is set to witnesses the launch of several solar power plants in the next few years following Tuesday's launch of the Middle East's largest solar power plant, located in Maan.
The launch of construction work on the Shams Maan Project represents a milestone towards Jordan's adoption of environment-friendly sources of energy, according to the companies implementing the scheme.
The $170 million plant — which is being developed by a consortium of investors consisting of Diamond Generating Europe Ltd., a subsidiary of the Mitsubishi Corporation; Nebras Power Q.S.C., a subsidiary of the Qatar Electricity & Water Company; and the Kawar Group — is expected to start generating power in September 2016.
First Solar Inc. was selected to provide engineering, procurement and construction services for the 52.5 megawatt (MW) plant, which has 681,360 solar panels that will be used for the production of about 160 gigawatt hours per year.
"This project is designed in accordance with the highest international standards using sustainable photovoltaic cells for the production of electricity from solar energy, as Jordan — and particularly Maan — is privileged to have sunlight exceeding 2,000 kilowatt hours annually per square metre, which is one of the highest globally," Karim Kawar, chairman of Shams Maan Company, said during an event to launch construction work on Monday.
The national strategy, which seeks to increase the share of renewable energy to the overall energy mix to 10 per cent by 2020 — is being upgraded to increase this share.
"We believe that with the many success stories witnessed in the renewable energy field, we need to increase the share of renewable energy in the overall energy mix," a source at the Ministry of Energy and Mineral Resources recently told The Jordan Times.
During Monday's event, Nebras Power CEO Khalid Jolo said the Shams Maan project is considered "an expansion for Qatari investments in the field of power generation in Jordan".
Renewable energy projects with a total capacity of 1,800MW are expected to be operational in Jordan by 2018, according to ministry figures.
Related Articles
Oct 10,2016
AMMAN — Deputising for His Majesty King Abdullah, Prime Minister Hani Mulki on Monday announced the official launch of the production phase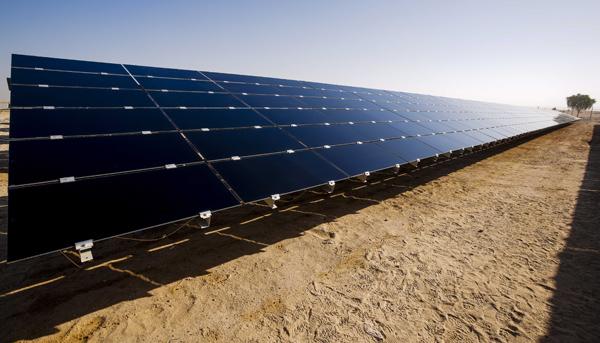 Oct 04,2016
AMMAN — The sun has just risen over Maan, 220km south of the capital, casting a fiery glow that is reflected off the seemingly endless rows
Aug 04,2014
First Solar, a global provider of comprehensive photovoltaic (PV) solar systems, said Monday it signed an agreement to provide engineering, procurement and construction services for the Shams Maan Company's projected 52.5 megawatt solar-run power plant in the southern governorate.
Newsletter
Get top stories and blog posts emailed to you each day.