You are here
Study gauges value of women's unpaid care work in Jordan
By Rana Husseini - Jan 04,2022 - Last updated at Jan 04,2022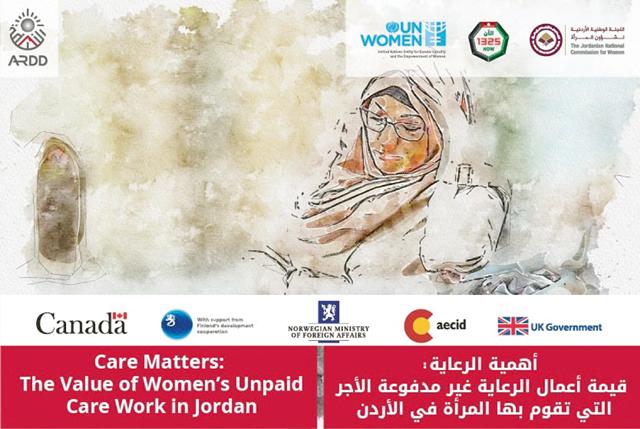 Image courtesy of ARDD Facebook page
AMMAN — The ratio of women to men's time spent on unpaid care work in Jordan is 19 to 1, the highest within the Arab states, a local study revealed.
The study, titled "Care Matters: The Value of Women's Unpaid Care Work in Jordan", was released to the media late Monday night by the Arab Renaissance for Democracy and Development (ARDD).
It has been estimated that 51.3 per cent of Jordanian women aged 15 years or above consider domestic household work (which is considered unpaid care work) as their primary activity, according to an ARDD statement.
In the Arab world, researchers have estimated that women perform 4.7 times more unpaid care work than men, which is the highest women-to-men ratio in the world, the statement said.
Care work, according to the ARDD statement, is defined by the International Labour Organisation as "consisting of activities and relations involved in meeting the physical, psychological and emotional needs of adults and children, old and young, frail and able-bodied".
Care work has historically and overwhelmingly been undertaken by women worldwide in their roles as wives, mothers and daughters. Care work can either be paid — through education, health, social care, and domestic work sectors — or unpaid, according to the ARDD.
Economist Wajdi Makhamreh pointed out that the report's findings are disturbing since "it emphasises that the entire load is on women".
"Part of it is cultural since men, in general, expect women to take on all the housework and there is legal support to protect females or help them minimise the burden that falls on their shoulders," Makhamreh told The Jordan Times.
Makhamreh said that the government needs to come up with legislation and programmes that support women when they stay home for a certain period and at the same time increase their financial assets.
Unpaid care work typically includes the direct care or supervision of persons (primarily children, persons with disabilities, the elderly, and persons with chronic illnesses), housework that facilitates the care of persons, and food shopping, among other activities, according to the ARDD statement.
While these actions are not always viewed as "work", the "third-person" criterion defines work as activities for which a third person could be compensated, and as such, these behaviours are considered as work, the statement said.
Former minister of state for economic affairs Yusuf Mansur said the situation in Jordan regarding women's participation in the labour force is very low and stands at around 12 per cent.
Mansur said that women's unemployment rate is around 35 per cent, and "when females work in the labour market the wage gap is extremely high".
"Some estimate that this gap is between 17 to 25 per cent, which is extremely high, and it is even higher in the private sector," the former minister said.
In addition to these factors, when women go to work, they have to use a transport system that is expensive relative to their income and in comparison with men's income, Mansur pointed out.
Some studies estimate that it costs a person JD120 in Amman to get to and from work, according to Mansur.
That is why, Mansur added, women will have little incentive to "get out of the house to find work, because when they do they will make little money and transport will eat most of it".
Mansur recommended placing greater focus on empowering women economically in the job market to decrease the division of labour within the household between women and men.
Jordanian National Commission for Women Secretary General Salma Nims praised the report saying it is important and timely.
"The issue of unpaid work is one of the main obstacles that affect women's economic participation," Nims told The Jordan Times.
Additionally, Nims said, the findings of the report come in response to one of the National Strategy for women's strategic goals, which is positive gender norms and attitudes.
"It focuses on establishing positive relations within the family, specifically in relation to understanding the gender norms in order for women to be able to access all their rights and to lower their burdens within the family and increase their ability to participate in public life," Nims explained.
As assessed by UN Women in 2020, unpaid care work has constituted a particular burden for women in Jordan despite social protection mechanisms, according to the ARDD statement.
However, there is a lack of accurate and reliable data on care work activities undertaken by women, particularly considering the impact of COVID-19, the statement said.
The report comes as part of the action research conducted by ARDD within the framework of the project "Strengthening the Capacities of Women-led CSOs in Evidence-Based Advocacy and Women, Peace, and Security (WPS) Agenda", which is supported by UN Women with the funding of the governments of Canada, Finland, Norway, Spain, and the United Kingdom.
ARDD also gave credit to the Jordan National NGOs Forum (JONAF) civil society partners and individuals that supported the study.
Newsletter
Get top stories and blog posts emailed to you each day.