You are here
Syrian crisis under the spotlight, 10 years on
Podcast tells inspiring stories, highlights solidarity, bravery of refugees 
By eu - Jul 27,2021 - Last updated at Jul 27,2021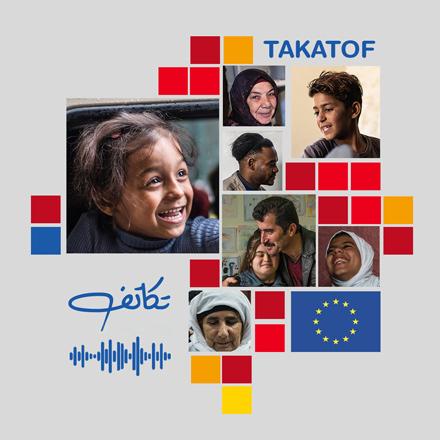 AMMAN — The Syrian diaspora is becoming a folktale of survival, inspiring bravery and resilience among some of the largest refugee trails in modern history.
As the world marks 10 years since the start of the crisis, Tayma, an 18-year-old refugee, vividly remembers her first steps into the "journey of life" from the rural town of Deraa in south Syria to Jordan, under the cover of the night, towards the unknown.
Tayma was an eight-year-old child when she fled her home with her family in search of safety.
"After the Maghreb call for prayer, we heard rumours that an attack would take place against our village of Al Taiba in Deraa. Of course, we were scarred, we were forced to leave home immediately," said Tayma.
"We began our journey of walking in the fields. It was dark, nothing to see. We were afraid. We lost my father and could not find him in the dark. We were not allowed to turn on a source of light or make noise," Tayma said in a podcast episode, titled Takatof to mark 10 years since the start of Syrian crisis. The podcast has been facilitated and supported by the European Union through the EU Regional Trust Fund in response to the Syria crisis, the Madad Fund.
The recently launched series is a platform for refugees, donors and Jordanian authorities and citizens to express their views on the response to the crisis and its impact.
"Any movement means they could bomb us. We had to crawl on our arms and feet in order not to be seen," Tayma said.
"When we arrived at the border, the army warmly received us saying; you are safe. That was the source of my happiness. My mother started crying and we started crying as well," she said.
It was wintertime when Tayma reached Zaatari camp to settle in makeshift tents, along with several thousand other asylum-seekers. Now, the camp is a sprawling slum city, with a population of 78,000 refugees.
Collective response
Despite limited resources, Jordan swiftly provided shelter and emergency aid, but the arrival of refugees has placed pressure on the education, healthcare, environment and livelihood sectors. Syrian refugees today account for 10 per cent of the Kingdom's population.
EU ambassador to Jordan Maria Hadjitheodosiou is quick to praise Jordan for its role in shouldering the burden of refugees. She also highlighted EU assistance to Syrian refugees during the past decade.
"Having provided some 24 billion euros over the past decade, the EU and its member states remain the largest contributors to meet the needs generated by the conflict," she said, noting that the Madad Fund has "allocated around 562 million euros for Jordan alone".
Through a number of instruments, the EU collaborated with dozens of UN organisations and NGOs to reach out to refugees and the local community to help mitigate the impact of the crisis.
"Our projects in Jordan strive to create positive structural changes to benefit the country in the long term by supporting its efforts in strengthening the education and health sectors and promoting inclusive, green and economic growth," she said.
UNICEF and UNHCR are two notable organisations that have been strongly involved with the EU.
UNHCR was at the heart of setting up the Zaatari camp, with the help of Jordanian authorities and volunteers.
UNHCR representative to Jordan Dominic Bartch discussed the impact of the Syrian crisis on Jordan, where nearly 660,000 Syrian refugees are officially registered.
"We need to acknowledge that 10 years into the crisis, this is a sad commemoration. The international community has come to support Jordan, but clearly there is a continued strain on the infrastructure, on schooling, on medical services," Bartch said.
Bartch stressed the importance of continued support to Jordan to be able to continue supporting Syrians and other refugees.
According to the UN, 86 per cent of Syrian refugees live below the poverty line and the majority rely on humanitarian aid to meet their basic needs.
"It is really important precisely at this anniversary that we renew our commitment to help the governments in the region and to continue to deliver essential assistance to the refugees both in urban areas and in the camps here in Jordan," Bartch added.
The Syrian crisis has displaced 6.7 million people internally and 5.5 million Syrians who sought protection in neighbouring countries, according to UNHCR figures.
The sheer number of refugees presents unprecedented challenges for humanitarian organisations, said UNICEF representative to Jordan, Tanya Chapuisat, who admitted that aid organisations need to be flexible and have a long -term vision.
"We need to integrate in the first years of an emergency response and make sure that we are looking to use the national systems, to be able to respond to the needs of refugees and local population to make sure they are not only responding to the refugees but other vulnerable children, so no child is left behind," Chapuisat said.
Half of Syrian refugees in Jordan are children, many of whom were forced into the labour market or into early marriage.
Syrians as an asset to labour market
During the past decade a major challenge for Jordan has been accommodating Syrians in the labour market.
A number of internationally funded programmes were established to integrate the Syrian workforce and utilise their skills.
Former minister of trade Youssef Mansour believes the arrival of Syrian refugees was a blessing in disguise for the local economy and labour market.
"We have very skilled workers, doctors etc and unskilled, but the middle skills are lacking. The Syrian brothers have a middle-work skill," he said, urging businesses to take advantage of these skills to diversify the economy.
"It is possible to take advantage of the refugees' presence to provide good for everybody. They do not only make jobs for themselves, but for Jordanians as well," Mansour said.
As part of its response to the crisis, the Madad Fund launched the "Makani" project in collaboration with UNICEF to provide a safe space for children and young people to access learning opportunities, child protection and other critical services.
An example of successful integration of a Syrian refugee in the Jordanian labour market is Tayma, who is now working as a social consultant in one of these centres. Her life changed for ever after joining the centre, she said.
"In every life, there is a turning point and in my life, the turning point is the Makani project. It allowed me to see positivity with every sense of the word. It allowed me to seek my dream. I love helping people," Tayma said.
For now, Tayma is focused on building her life and supporting her family. She is also eager to pay back the debt of gratitude she owed to Jordan for giving her a new lease on life.
"I am grateful to the help of Jordanians. I want to help people as much as I was provided help. I want to be positive and help people," she concluded.
(The EU contributed this article to The Jordan Times)
Newsletter
Get top stories and blog posts emailed to you each day.