You are here
'Tafileh university administration reviewing decision to expel 11 students'
By Suzanna Goussous - Dec 31,2015 - Last updated at Dec 31,2015
AMMAN — The Tafileh Technical University administration is reviewing its decision to expel 11 students for celebrating their own and colleagues' graduation projects, one of the students said on Thursday.
The expulsion decision applies to eight students who are currently enrolled in their last semesters at the university, administration members said.
Students are facing expulsion for celebrating their own and colleagues' graduation projects, knowing that the university president had previously banned celebrations after graduation projects on campus.
University President Shtaywy Abdalla had announced earlier this semester that any student who is involved in the celebrations could face expulsion or would be asked to drop the semester.
University officials have described the celebrations and gatherings as "chaotic", saying they could lead to violence among tribes and students residing in areas around campus in Tafileh, 180km southwest of Amman.
The university's council of deans met with students on Wednesday to come to terms with them, but no decision was taken after the meeting, said a student who preferred anonymity.
"The board members and students did not reach a decision regarding the expulsion. They just listened to our testimonies on the matter," he told The Jordan Times.
The student, who has two semesters left, said students in question are now allowed to sit for their final exams, regardless of the decision on their expulsion.
"Of course, none of the students who could be expelled is studying. We are not doing well in our exams because we are waiting for the administration's decision," he said.
Abdalla told The Jordan Times that the students "admitted their mistake" in the latest meeting with the administration.
"We are taking into consideration that some of them are in their last semesters and their parents' reactions; we are going to be merciful," he added.
The president emphasised the importance of teaching students manners before they graduate, since educational systems are not only about providing students with academic information.
University Vice President Fawwaz Abdel Haq said the administration will go through the students' records and review their actions on campus.
"Depending on their actions and academic performance, we will judge who should stay and who should be expelled," he said.
The vice president added that the investigation in the case will continue until next week despite the fact that students are sitting for exams.
"They disrupted classes at university so they should take responsibility for their actions," Abdel Haq said.
Related Articles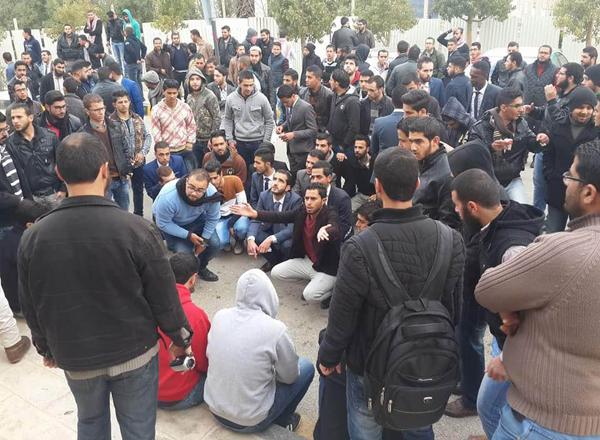 Dec 29,2015
AMMAN — Eleven students from the Tafileh Technical University, eight of whom are currently in their last semesters, found out last week that
Mar 15,2015
The Higher Administrative Court on Sunday overturned a decision by Yarmouk University's council of deans to irrevocably expel three students after a campus brawl in last July.
Sep 28,2016
AMMAN — Following the lead of students at the University of Jordan, Hashemite University students on Wednesday started an open-ended demonst
Newsletter
Get top stories and blog posts emailed to you each day.