You are here
Teachers receive specialised training on 'drama in education' approach
By JT - Jan 17,2021 - Last updated at Jan 17,2021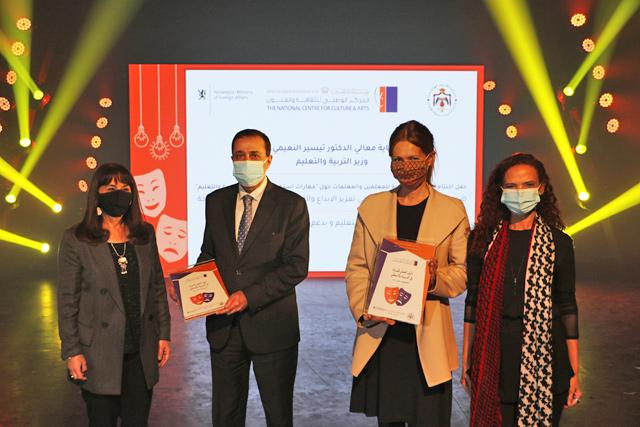 Minister of Education Tayseer Nuaimi, and organisers of the 'Drama in Education' training course pose for a group photo during the closing ceremony for the first batch of teachers who finished the course (Photo courtesy of NCCA)
AMMAN — A total of 100 public school teachers have attended the 'Drama in Education' training designed to instill moral and civic values to students and provide instructors with artistic tools they can employ to promote creativity in learners.
There are 300 teachers currently receiving the training with more than 100 Jordanian teachers and Syrian assistant teachers to join the course in February in the Zaatari and Azraq refugee camps, organisers said in a statement to The Jordan Times.
The training course was organised by the National Centre for Culture and Arts (NCCA) in cooperation with the Ministry of Education and was funded by the Norwegian Ministry of Foreign Affairs.
NCCA Director General Lina Attel, also a renowned actress, said that the training for the sitting 300 teachers is funded by the Drosos Foundation with the US Department of State funding the training course to be given in the Syrian refugee camps.
Giving a speech during the closing ceremony for the first batch of teachers who finished the training, Attel said, "Drama in Education is an active learning process where students explore life themes and issues through a set of drama strategies, including improvisation, role playing, creative writing, storytelling, voice and speech, creative movement and mime."
"Educational Drama challenges students' perceptions about their world and about themselves and provides them with a safe environment to develop their communication skills and understand others in new ways using body, mind, language and emotions … We firmly believe that if young people acquire these skills at an early age, they will reject violence in all its forms and adopt values of equality, justice, empathy, respect and are advocates for peace."
The "Drama in Education and Theatre Arts" teacher's manual, which was produced by theatre specialists from the NCCA in collaboration with the Ministry of Education, has been accredited by International Theatre Institute, UNESCO and NCCA," Attel said in the statement.
The "Drama in Education and Theatre Arts" activity guide book for teachers consists of six sections: Creative drama games, role playing and improvisation, voice and speech, story creation, creative movement and creative writing.
Norwegian Ambassador to Jordan Tone Allers also gave a speech during the ceremony, held under the patronage of Minister of Education Tayseer Nuaimi, highlighting the project's contributions to increasing the youth's awareness about social issues and violent extremism using interactive theatre arts.
"The impact we noticed through this project was significant. The Ministry of Education took a vital step in 2018 when it was decided to add 20 per cent of the activities within the academic curriculum," the ambassador said.
"Through this change, the project was able to promote tolerance and human values through the arts in Jordan. It is important to continue this project to increase awareness of the role of arts in social development and youth engagement. This can be possible when we have our dedicated teachers to help us in raising the youth awareness and widen their horizons through using Drama- In- Education and interactive theatre where they can have a safe space to talk about their challenges and listen to their voices."
Newsletter
Get top stories and blog posts emailed to you each day.