You are here
Third of Jordan's population lives below poverty line at some point of one year — study
By Omar Obeidat - Jul 02,2014 - Last updated at Jul 02,2014
AMMAN –– Mohammad Amin Al Saad's pension is around JD350 a month, enough to meet his family's needs, but not always.
"My salary is enough to buy house needs but I always struggle when school starts as well as during winter," said Saad, a father of seven who lives in Irbid, some 80km north of Amman.
He explains that winter is the toughest period of the year not in terms of low temperatures but because the rising costs of heating and clothing are usually "much higher" than his fixed income.
Mohammad Abu Aloosh, from the northern village of Hibras, is a public servant with a monthly salary of nearly JD300.
Married with five children, Abu Aloosh usually suffers a shortfall in finances when the children prepare for the start of school as well as in Ramadan.
He told The Jordan Times that in the period of the two Muslim feasts –– Eid Al Fitr and Eid Al Adha –– sometimes he borrows from his father to buy new clothes for his family.
"My income can barely keep us surviving."
Saad and Abu Aloosh are like many Jordanian low- and middle-income households who are vulnerable to volatile expenditures at different times of the year.
As they have to pay back for extra expenditures during peak seasons, household consumption following unstable spending drops sharply in certain quarters of the year.
According to a recent World Bank study, a third of the population in Jordan lives below the poverty line during at least one quarter of the year, known as transient poverty.
Official figures estimate that 14.4 per cent of the population lived in poverty during 2010.
But the study, prepared by a team of experts from the World Bank, indicates that 18.6 per cent of the Kingdom's population, which is classified as non-poor based on annual poverty estimates, experienced transient poverty, including some lower-middle and middle income households.
This figure makes the overall portion of the population whose consumption falls sharply to below the poverty line 33 per cent.
The national annual poverty line for 2010 was set at JD813.7 per individual.
More people are classified as poor on a quarterly than on an annual basis as many households face temporary spells of poverty.
The World Bank study explains that in quarter two of 2010, poverty estimates appear notably lower than in the other quarters, a pattern that may be due in part to Ramadan and Eid festivities occurring during that quarter.
The study was prepared by World Bank expert Umar Serajuddin and other experts from the Ministry of Planning and International Cooperation.
"Jordan's official poverty statistics are produced annually; however, a look at household consumption trends on a quarterly basis provides a unique perspective into the nature of the poor and the vulnerable population in Jordan," the authors of the study said.
The Household Expenditure and Income Survey collects consumption data for each interviewed household across four quarters and, thus, can provide a snapshot of poverty across different times of the year.
Moreover, the panel structure of the data affords the opportunity to directly measure transitions in household well-being over time.
Whereas 14.4 per cent of Jordan's population is considered poor according to the official definition, 6.3 per cent of the population lives in poverty in every single quarter, the study said.
This subgroup of the poor population can be viewed as living in a state of "persistent poverty".
On the other hand, 8.1 per cent of the population, while poor according to the official definition, was able to consume more than the poverty line in at least one quarter. This can be thought of as living in a state of "chronic poverty".
In addition, 18.6 per cent of the entire population in Jordan, although non-poor according to the official definition, experiences poverty in at least one quarter during the year, the study said.
These are the "transient poor" in the sense that they experienced poverty in at least one quarter during the year, despite being officially considered as non-poor because their annual per capita consumption exceeds the annual poverty line.
Economist Yusuf Mansur explained that the study simply shows that some Jordanian households are poor during a certain period of the year, while not poor for the rest of the year.
Factors leading to this type of poverty, Mansur said, include a drop in income, rising living costs or increasing consumption.
For example, in Ramadan, the majority of low- and middle-income households consume more and usually prices go up, he told The Jordan Times, adding that in the next quarter consumption goes down sharply as households' income drops because they have to pay back their debts.
The importance of the study is that it can guide policy makers on what are the most convenient periods to distribute cash payments to families who receive government support, Mansur said, noting that the study is the first of its kind.
Related Articles
Dec 09,2014
The gap between the rich and poor in a range of countries has reached its widest in 30 years and the trend has harmed growth, the Organisation for Economic Cooperation and Development (OECD) said Tuesday.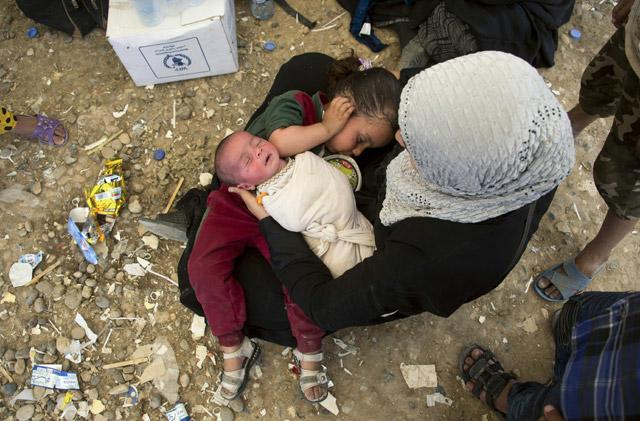 May 15,2017
BEIRUT — One in four children in the Arab world live in poverty, often deprived of life's most basic necessities such as proper housing or s
May 30,2015
AMMAN — Only 5 per cent of domestic water is used for drinking and cooking purposes, according to a new study, which said that 45 per
Newsletter
Get top stories and blog posts emailed to you each day.