You are here
Thousands gather on airport road to receive King
By Muath Freij - Feb 05,2015 - Last updated at Feb 05,2015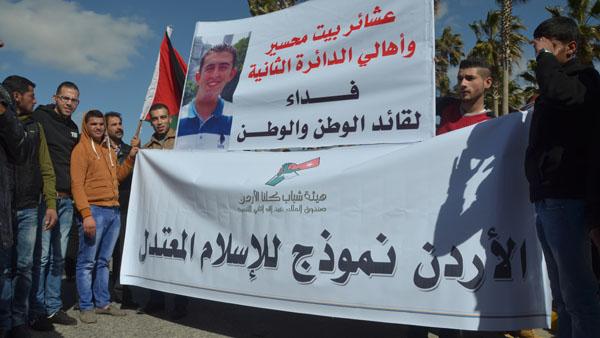 AMMAN — Azzat Aneizat came all the way from the northern Governorate of Ajloun to Queen Alia International Airport (QAIA) on Wednesday to receive His Majesty King Abdullah and express solidarity with the family of air force pilot Muath Kasasbeh, who was murdered by the so-called Islamic State (IS).
"This is a cowardly act and they [IS] have nothing to do with Islam in any way," he told The Jordan Times as he waited for King Abdullah to arrive from the US.
He noted that these difficult times facing Jordan can only strengthen the people's unity.
Aneizat was among thousands of Jordanians who thronged QAIA, some 40km south of Amman, and along the airport road to receive the King, who had cut short his visit to the US after news of Kasasbeh's murder was announced, and express their support for the pilot's family.
Jordanians surrounded King Abdullah's car as he was driving out of QAIA, waving Jordanian flags and carrying photos of Kasasbeh.
Students from private universities located on the airport road gathered outside their campus to see the King's motorcade.
Abu Ahmad, an Amman resident who was there to greet the King, said he came to express support for His Majesty.
"I was furious when I found out about Kasasbeh's death. They [IS] killed a pilot whose task was to protect his country," he added.
Odai Shamaileh, a university student, said he came to the airport because he wanted to pay condolences to the family of "the hero pilot".
"The family of Kasasbeh can at least find solace in knowing that their son is a martyr. This awful incident has contributed to making us more united," he added.
Salah Abdul Qader, who came from Madaba to QAIA, said international conventions guarantee the dignity of prisoners, but IS disregards all laws and norms.
Salem Hazayda, also from Madaba, which is 30km southwest of Amman, called on the government to avenge Kasasbeh.
Ameen Bani Naser, a mukhtar (community leader) from Ajloun, described the Jordanian pilot as a "falcon".
"I want to pay condolences not only to the family of Kasasbeh, but also to all Jordanians and to the country's armed forces," he said.
Related Articles
Feb 08,2015
My deepest heartfelt condolences to Muath Kasasbeh's family, friends and the entire Jordanian nation.
Feb 06,2015
The burning alive of a Jordanian pilot by the Islamic State (IS) group has shocked and angered Jordanians, uniting them behind their government's vow to intensify its military action against the jihadists.
Feb 05,2015
Jordanians say the murder of air force pilot Muath Kasasbeh will strengthen the social fabric and reinforce solidarity.
Newsletter
Get top stories and blog posts emailed to you each day.