You are here
Tourism revenues see 9.4 % growth — CBJ
By JT - Nov 12,2019 - Last updated at Nov 12,2019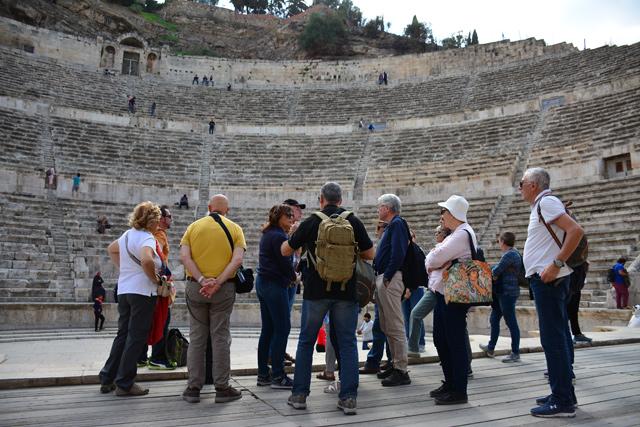 Tourists visit the Roman Theatre in downtown Amman on Monday. The Central Bank of Jordan's figures showed that the tourism sector during October 2019 generated $458.4 million (Photo by Amjad Ghsoun)
AMMAN — Tourism revenues increased by 9.4 per cent at the end of October 2019, reaching $4.9 billion (approximately JD3.5 billion), according to preliminary data released by the Central Bank of Jordan (CBJ) on Tuesday.
The CBJ said in a statement, carried by the Jordan News Agency, Petra, that the increase was mainly driven by a 7.7-per cent rise in the total number of tourists to the Kingdom, who totalled 4.5 million compared with the same period last year.
The CBJ figures showed that the tourism sector during October 2019 generated $458.4 million (some JD325 million) indicating an increase of 13.4 per cent in comparison with the same period in 2018.
The Ministry of Tourism and Antiquities said that the number of total tourist arrivals to the Kingdom during October 2019 increased by 15 per cent, and in Petra alone rose by 43 per cent, in Jerash 64 per cent, Wadi Rum 44 per cent, Madaba 41 per cent, the Baptism Site 33 per cent and Mount Nebo 24 per cent, Petra added.
In January, the ministry expected the sector to continue to achieve more gains, marked by a continuous rise in performance indicators.
The ministry noted that it is moving forward in tandem with the Royal directives and the government's support towards boosting tourism in the Kingdom.
According to ministry figures from January, the number of travel and tourism offices in the Kingdom stood at 904, and the number of tourist restaurants reached around 990, while the number of workers in the tourism sector amounted to 88,000.
Newsletter
Get top stories and blog posts emailed to you each day.