You are here
Traffic Department rolls out plan to ease gridlock during Ramadan
By Sarah Abu Zaid - Apr 11,2021 - Last updated at Apr 11,2021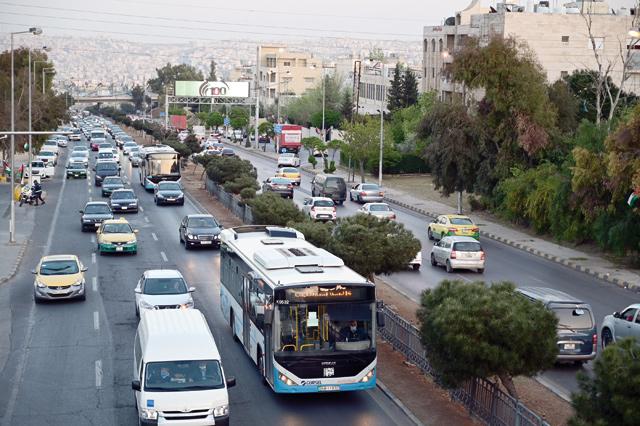 Head of Amman Traffic Division Raed Al Assaf has said that a comprehensive traffic plan has been prepared and would be implemented during the holy month of Ramadan (Photo by Amjad Ghsoun)
AMMAN — Head of Amman Traffic Division Raed Al Assaf has said that a comprehensive traffic plan has been prepared and would be implemented during the holy month of Ramadan.
Assaf, in a press statement, said that as part of the plan, the Traffic Department will deploy police patrols in all governorates and will take all measures to ensure the reduction of traffic bottlenecks, especially before Iftar (fast breaking meal).
According to the statement, measures will be taken at key points in Amman, such as major highways and traffic light intersections. These measures will be coordinated with the Greater Amman Municipality (GAM) through their control centres.
Assaf noted that, there will be constant following up on tunnels across the Kingdom to remove any obstacles.
Assaf thanked the public for their compliance with the guidelines and regulations, all the while discouraging double-parking of vehicles or parking in restricted areas, which could result in impeding traffic.
Rana Al Khayyat, a pharmacy owner, appreciated the traffic department's plan: "The traffic plan would make the roads more accessible and it will be easier for me to get home before Iftar time, especially that my commute from work to home is pretty long," she said.
Mayan Mahmoud, a working mother, said that this plan would give her the chance to reach her house earlier, and in so giving her more time to prepare Iftar for her family.
"I would like for the Department of Traffic to continue with this plan even after Ramadan," Mayan added.
Newsletter
Get top stories and blog posts emailed to you each day.