You are here
Ukrainian-Russian crisis exposes racism in Western media coverage — journalists
By Batool Ghaith - Mar 07,2022 - Last updated at Mar 07,2022
Parents accompany children and teenagers as they board a train after leaving Kyiv's Central Children's Hospital following its evacuation in Kyiv, on Monday, 12 days after Russia launched its military invasion of Ukraine (AFP photo by Sergei Supinsky)
AMMAN — The Ukrainian-Russian crisis has revealed deep-rooted racism in Western media's coverage of the conflict, according to experts.
Over the past week, multiple Western politicians and journalists have used discriminatory language, based on race and religion while discussing the recent invasion of Ukraine by Russia, sparking anger globally, especially in the Middle East.
Jordan Press Association member and trainer in human rights Khaled Qudah told The Jordan Times that the war in Ukraine has "proved the opposite of what the West has been presenting to the international community about integrity, impartiality, freedom of expression and human rights".
"These arguments are only used when it serves in their interests, and this was evident in the Western media's coverage of refugees from Syria, Iraq or Afghanistan, and how different it is to the coverage of refugees from Ukraine," Qudah said.
Qudah emphasised that the principles advocated by the West are "decorative" to serve political goals. "Unfortunately, Western media has abandoned the principles of professionalism, humanity and impartiality," he continued.
He also highlighted social media's spread of misinformation, as a photo of Palestinian girl Ahed Tamimi in confrontation with Israeli soldiers was published, claiming her as a Ukrainian girl resisting Russian soldiers.
"A Ukrainian child resisting the Russians is described as a hero, while a Palestinian child resisting the Israeli occupation is described as a terrorist, even though they are fighting the same fight, living the same issue, but in a different place, with different origins, religion etc," he added.
Heba Obeidat, a journalist from Jordan, noted how "dangerous it is for journalists or public figures to engage in hate speech".
"The influence of these words is much greater coming from officials and journalists than when it is just an opinion of some citizens, as they are addressing millions of people worldwide," Obeidat told The Jordan Times.
She added that the right to asylum is a right guaranteed by international laws to anyone who fled their country due to war or political reasons, without any bias towards white-skinned people.
Obeidat said that the Western media's recent remarks "confirmed the idea that neutral media doesn't exist".
Ahmed Smadi, a humanitarian worker in Jordan, highlighted the role of media during such crises. "Journalism is vital for getting people's voice heard and shedding light on what is happening. Such reporting, however, should not be at the expense of others, or to undermine other people's suffering," he told The Jordan Times over the phone.
"There are many alleged reports of people of colour being refused entry at border crossings in favour of white Ukrainians, therefore they are stuck at borders for days in terrible conditions. The European Union and European countries' human treatment of refugees should include refugees of different races, religions, and nationalities," Smadi added.
Mohammad Shamma, a human rights journalist, said that some Western media outlets have "double-standard-sympathy", which is a violation of basic journalistic standards.
"Everyone has the right to sympathise, but the content they present must represent the life of all people without double standards or discrimination," Shamma told The Jordan Times over the phone.
Shamma emphasised that some Western media coverage is "a colonialist discourse" which does not necessarily represent Europe, but the journalists should be held accountable.
Related Articles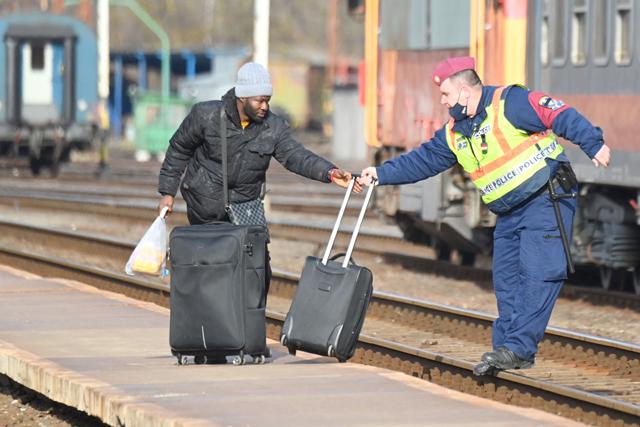 Mar 01,2022
BAGHDAD — The world has been stunned by Russia's invasion of Ukraine, but shock quickly gave way to indignation in other strife-torn parts o
Mar 07,2022
KYIV — Ukraine dismissed Moscow's offer to set up humanitarian corridors from several bombarded cities on Monday after it emerged some route
Jun 11,2022
AMMAN — Shedding light on people's suffering and humanising media is crucial, said President of the Jordan Red Crescent (JRC) Mohammed Hadid