You are here
Under 2,400cc long-distance travel taxis allowed to work with smart ride-hailing apps — LTRC
By Bahaa Al Deen Al Nawas - Jul 25,2020 - Last updated at Jul 25,2020
Taxis designated for long-distance travel, with an engine capacity under 2,400cc will be allowed to work with smart ride-hailing applications as of Sunday, according to the Land and Transport Regulatory Commission (JT file photo)
AMMAN — Taxis designated for long-distance travel, with an engine capacity under 2,400cc will be allowed to work with smart ride-hailing applications as of Sunday, Land and Transport Regulatory Commission's (LTRC) Director General Salah Lozi announced on Friday.
Ahmad Hailat, founder of the Ride-Hailing Application Drivers' Dialogue Committee (Captain Care), told The Jordan Times over the phone that long-distance travel taxis are very large, and they might not benefit much from the decision.
"Drivers with hybrid and economy vehicles can barely make a profit on a daily basis," he said, noting that their numbers are not many, as they could amount only to 100 or 200 vehicles, which will not impact the ride-hailing applications' sector.
"There are start-ups that did not receive a lot of applications from drivers, so they ended up employing unlicensed drivers," Hailat said, adding that there are around 15,000 vehicles working with companies without getting an official licence.
Hailat said the matter of allowing long-distance travel taxis "will not impact the sector at all or add to its struggles".
"If there were no unlicensed companies and drivers, we would have compensated for the losses we are suffering due to the coronavirus crisis," Hailat said, noting that costs paid to the LTRC for official licensing are "very high".
When unlicensed companies and drivers operate, they make profit on "whatever tariffs" they impose, which forces companies adhering to the law to lower their tariffs as well to be able to compete.
The Jordan Times contacted the President of the Transport Services and Taxi Owners Union Ahmad Abu Haidar on Saturday, who said: "I have not been up-to-date and do not know about the decision yet."
In a phone interview in June, Abu Haidar told The Jordan Times that taxis designated for long-distance travel have not operated since February, and that the sector has been in a "very bad" state, even before the coronavirus crisis started.
After the government eased lockdown and curfew measures that were imposed to curb the spread of COVID-19, the passenger capacity allowed was set to 50 per cent, and later was raised to 75 per cent for all modes of public transport.
Related Articles
Dec 13,2021
AMMAN — Ride-hailing applications' drivers on Monday organised a sit-in in front of the Land Transportation Regulatory Commission (LTRC)."Ri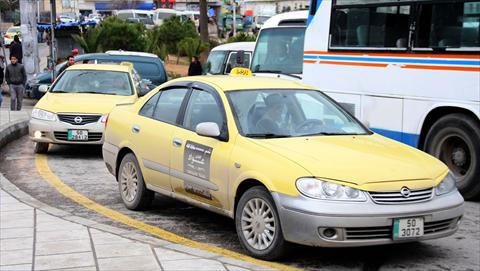 Dec 09,2019
AMMAN — Prices of yellow taxis have dropped 30 per cent over the course of the year due to competition in the sector, according to the vice
Feb 20,2020
AMMAN — Fines will be imposed on drivers working for unlicensed ride-hailing applications, with the aim of creating fair competition in the