You are here
'Unemployment among accountants 55%'
By Dana Al Emam - Jul 27,2016 - Last updated at Jul 27,2016
There are around 120,000 accountants in Jordan, excluding current students, according to sector insiders (Photo courtesy of University of Jordan)
AMMAN — Universities should stop enrolling accountancy students due to the lack of jobs in the field, a group of accountants has said, while others called for a new syndicate to address problems in the sector.
The accountants called on the Higher Education Ministry to stop accepting new students in accountancy majors in private and public universities and colleges.
In a statement made available to The Jordan Times, the group said that unemployment among accountants had reached 55 per cent, adding that priority for employment should be given to unemployed graduates.
Mohammad Abu Zaid, a member of the group, said there are around 120,000 accountants in Jordan, excluding current students, adding that the lack of an official body for all accountants exacerbates problems.
He noted that not all accountants are certified accountants or auditors, and "difficult exams" must be passed to join the Jordan Association of Certified Public Accountants, which he said has only 700 members.
The proposed legislation for a more comprehensive umbrella for accountants was discussed at the Legislation and Opinion Bureau, and needs the approval of the Prime Ministry so it can be discussed in the upcoming Parliament, the accountants said.
Khaled Mursi Abu Abdullah, a member of the central committee for the Jordanian Accountants Syndicate, which is in the pipeline to be formed, said the government appears to have more pressing legislation to address.
Meanwhile, he said it was difficult to circulate precise figures on the numbers of unemployed accountants due to the lack of an official organisation with databases and survey capacities concerned with the profession.
Abu Abdullah said the main issue was not with the number of graduates, which reaches 5,000 annually, but rather with the fact that non-accountants take the role of accountants in many fields.
The sector needs to be better organised, he stressed, adding that by doing so, fresh graduates would find enough job opportunities in the local and regional markets.
"There is no need to stop accepting new students, but rather [there is a need] to accelerate the legal process to endorse the law," he said.
Accountant Mohammad Faqih, who works at a private company and is responsible for testing job applicants, said many recent graduates were incompetent and, therefore, did not have good employment prospects.
He explained that many fresh graduates lack basic professional skills and are not aware of the responsibility that an accountant shoulders. He gave an example of a job test he gave to 25 applicants, which he said none passed.
"Many fresh graduates are more concerned about the working hours and their days off rather than their duties and professional growth," said Faqih, who has 11 years of experience in Jordan and Gulf Arab countries, adding that employees with no experience tend to demand salaries reserved for experienced staff.
Meanwhile, accountant Dana Falah said many companies take female accountants as secretaries, noting that this does not improve the accountant's skills in the field.
She said she has been jobless for several months after working for a year, adding that she turned down many offers that were not directly linked to her field of study.
Meanwhile, Mahmoud Sabbah, another jobseeker in the same field, said job opportunities were usually either for fresh graduates and offering "very humble salaries" or for highly certified and experienced accountants, adding that he does not fit in either of the two categories.
Hatem Qawasmi, the chairman of the Jordan Association of Certified Public Accountants, was not available for comment.
Related Articles
Feb 29,2016
AMMAN — A one-year training programme seeks to enhance the employability skills of 200 dentists who are currently unemployed, said Ibrahim T
Jul 25,2017
AMMAN — Talal Abu Ghazaleh, chairman of Talal Abu Ghazaleh Group, has offered 1,000 scholarships to international certified accountants from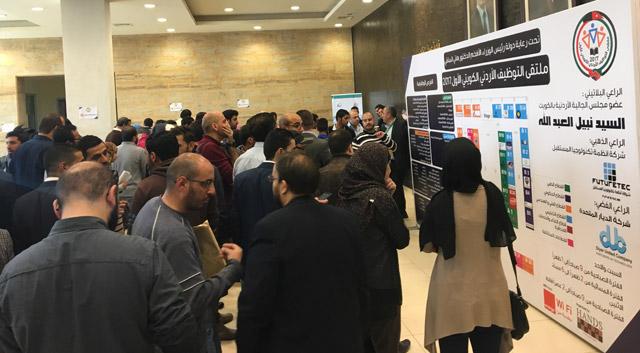 Apr 18,2017
AMMAN — Around 15,000 Jordanian job seekers attended the Jordanian-Kuwaiti Employment Forum which concluded on Monday in Amman.The forum off
Newsletter
Get top stories and blog posts emailed to you each day.