You are here
UNHCR Jordan doubles efforts to vaccinate refugees against COVID-19
By JT - Dec 08,2021 - Last updated at Dec 08,2021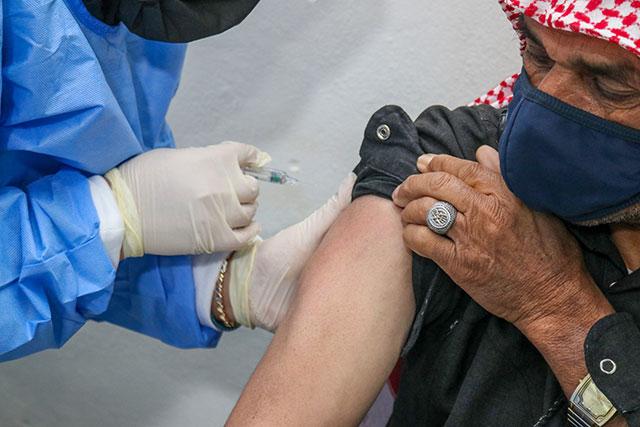 A UNHCR beneficiary receives his vaccination at a UNHCR distribution centre (Photo courtesy of UNHCR)
AMMAN — Based on data from the Ministry of Health and the National Centre for Security and Crisis Management, UNHCR, the UN Refugee Agency in Jordan, currently estimates that as of the end of October 135,000 individuals — 33 percent of Syrian refugees — aged 12 years old and above living outside of refugee camps are vaccinated against COVID-19.
Since October 31, UNHCR has opened three mobile vaccination units in its registration centres in Amman, Mafraq and Irbid in partnership with the National Centre for Security and Crisis Management and the Ministry of Health, according to a statement from the UN agency.
Over 1,300 refugees have already been inoculated through this exercise. Some 55 per cent of eligible refugees (12 years and above) in Zaatari and Azraq camps have been vaccinated, thanks to the available vaccination centres in both camps.
Additionally, starting this week, UNHCR is distributing a small cash amount to all refugees living outside of refugee camps who have received two doses of the COVID-19 vaccine.
The distribution of JD7.5 per fully vaccinated refugee is designed as a compensation for the transport costs refugees incurred when receiving their vaccination.
"Protecting refugees is at the core of what we do at UNHCR, and this includes ensuring that everyone has the means to receive their COVID-19 vaccine," said Dominik Bartsch, UNHCR Jordan Representative.
"In support of the Government of Jordan's efforts to increase vaccination rates, we are doing everything we can to encourage vaccine uptake among refugee populations," he added.
As part of this initiative, refugees living in Jordan are encouraged to verify their vaccination status with UNHCR. Refugee families will subsequently receive an SMS with instructions as to when and how their vaccination cash will be ready to collect.
Refugees who are already vaccinated should receive their cash assistance in December while distributions to those who will take their vaccine in the coming weeks will take place in January.
"I received my second dose of the COVID-19 vaccine over two months ago but at the time it wasn't easy as the vaccination centre was far, and we did not have enough money to cover the taxi fare. I will now tell all my neighbours about this cash distribution if they receive the vaccine," stated Mohammad, a Syrian refugee in Amman, after collecting JD40 in recognition for the fact that five individuals in his family had received the vaccine.
In line with Ministry of Health policies, UNHCR Jordan continues to urge all refugees to get their COVID-19 vaccine, including the booster dose for the ones who have received their last dose over six months ago.
Additionally, as of January 2022, in line with the Government's Defence Orders, refugees and asylum seekers will need to be vaccinated to visit UNHCR Registration Centres in Jordan or present a recent negative PCR test.
Newsletter
Get top stories and blog posts emailed to you each day.