You are here
UNWTO declares Jordan a regional hub for medical tourism
By Mays Ibrahim Mustafa - Jun 08,2023 - Last updated at Jun 08,2023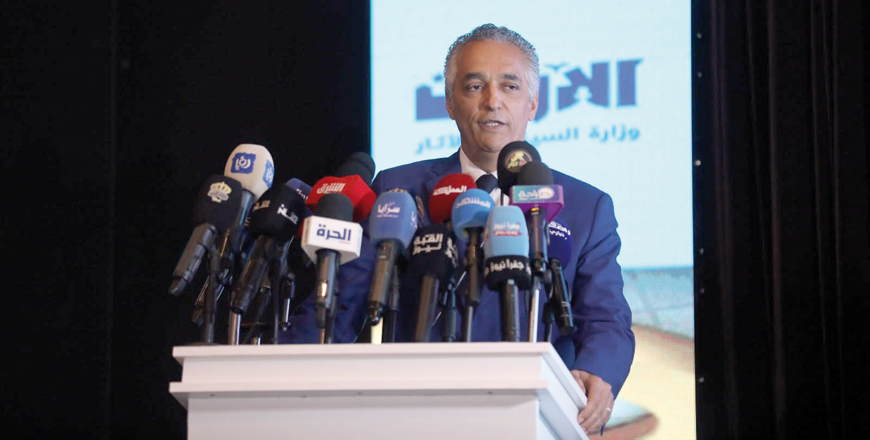 Minister of Tourism Makram Al Queisi speaks during the UNWTO 'Medical and Wellness Tourism' conference in the Dead Sea area on Thursday (Photo courtesy of JTB)
DEAD SEA — The UN World Tourism Organisation (UNWTO) on Thursday announced Jordan as a regional hub for medical and wellness tourism.
The announcement came during the UNWTO "Medical and Wellness Tourism" conference, held in the Dead Sea area.
Minister of Tourism Makram Al Queisi said that Jordan has already established itself as a "pioneer" in medical tourism.
The first open-heart surgery, the first liver transplant and the first conjoined twins separation surgery in the Middle East were all performed in Jordan, according to Queisi.
He also noted that Jordan is distinguished by its qualified human resources in the sector.
According to 2021 statistics, Jordan has about 26.6 physicians per 10,000 inhabitants, which exceeds the global average of 17.2 physicians per 10,000 inhabitants, he said.
There were also about 35.2 nurses per 10,000 people during the same year, which "remarkably" higher than the global average of 28.7 per 10,000 people, Queisi added.
Jordan received around one million patients from 71 countries over the past five years, except for 2020 due to the outbreak of the COVID-19 pandemic, he said.
There are currently 121 hospitals in Jordan, 71 of which are private, 33 are government hospitals, 15 are military and 2 are university hospitals, housing roughly 16,000 beds, according to Queisi.
He added that the ministry will work on developing and executing clear promotional plans and programmes to maximise the benefits of this recognition through the Jordan Tourism Board (JTB).
It will also work on increasing cooperation efforts with all relevant entities, including private-sector institutions, to overcome existing barriers and hindrances hampering the development of the sector, he continued.
President of the Jordan Private Hospitals Association (PHA) Fawzi Hammouri noted that this recognition comes following "decades of hard work".
This was made possible through investing in Jordan's human resources and infrastructural development, in addition to successful private-public sector partnerships, such as collaboration between the Ministry of Tourism and PHA, he said.
Health Minister Firas Al Hawari pointed out that investing in healthcare and medical tourism is key to increasing economic growth, according to the Economic Modernisation Vision (2023-2025).
JTB Director General Abdulrazzaq Arabiyat noted the board's commitment to promoting Jordan as a top medical tourism destination, with 45 marketing packages and new tourism products designed specifically for this purpose.
Newsletter
Get top stories and blog posts emailed to you each day.