You are here
From waste to wearables: Jordanian designer showcases craft of sustainable fashion
By Mays Ibrahim Mustafa - Mar 20,2023 - Last updated at Mar 21,2023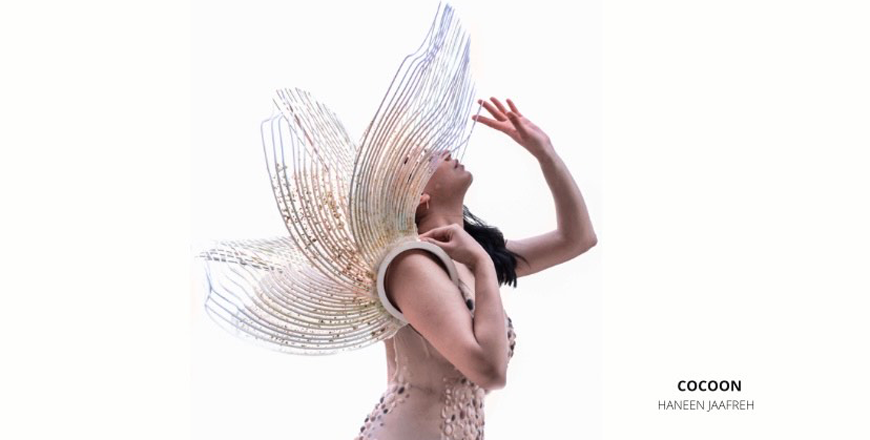 In an effort to promote sustainable fashion, Jordanian Haneen Jaafreh, an architect and a multidisciplinary designer, is turning organic waste into wearable biomaterials (Photo courtesy of Haneen Jaafreh)
AMMAN — In an effort to promote sustainable fashion, Jordanian Haneen Jaafreh, an architect and a multidisciplinary designer, is turning organic waste into wearable biomaterials.
Instead of shopping for fabric to bring her designs to life, Jaafreh either gathers food leftovers from her own home fridge or tours local supermarkets to help rid them of onion peels or overripe fruits and vegetables, such as watermelons, cabbage leaves and zucchinis.
Jaafreh is an alumni of Fabricademy, a six-month interdisciplinary course focused on digital fabrication, textiles and biology. The postgraduate programme is hosted at TechWorks, a Crown Prince Foundation (CPF) initiative.
The designer's zero-waste fashion endeavour was inspired by the textile industry's "dangerous" impact on the environment.
Statistics published by the United Nations Environment Programme (UNEP) show that textiles account for roughly 9 per cent of annual microplastic losses to the ocean and the equivalent of one garbage truck of textiles is dumped into landfills or incinerated every second.
Every year, the fashion industry uses up 93 billion cubic metres of water, which is enough to meet the consumption needs of 5 million people. It's also responsible for 10 per cent of annual global carbon emissions and 20 per cent of global wastewater, according to UNEP.
"I only use food items that are no longer edible or viable for consumption because the goal is to reduce waste," Jaafreh told The Jordan Times in a recent interview.
Moreover, the Jordanian designer is currently cooperating with companies that deal with agricultural waste, such as date seeds, which she turns into biomaterial that can be used to make accessories.
She noted that the manufacturing process, which employs 3D printing and laser cutting technologies, differs depending on the used material.
The durability of items made from biomaterial depends on the nature of the material itself and how it's handled, according to Jaafreh.
However, "the main purpose of using biomaterial is that it doesn't last forever; it decomposes after it's disposed of without causing any harmful impacts on the environment," she said.
Jaafreh also pointed out that biomaterials aren't meant to completely replace fabric, but to "at least" reduce its use; "some of my designs, including earrings, vests and scarves, are a combination of both biomaterial and recycled fabrics".
A 3D printed wearable art piece made by Jaafreh from sustainable material and recycled fabric is currently on display at the National Gallery of Fine Arts.
She said that the colourful design of the art piece offers a visual representation of the sounds made by coral reefs.
"These hues, which bring the garment to life, are meant to bring awareness to the environmental impact of the textile industry and remind people of the need to protect our ecosystems," she added.
up
22542 users have voted.
Related Articles
Feb 19,2022
PARIS — Sneakers made from banana or pineapple leaves, dresses from nettles or fish scales — the search for sustainable materials has taken
Jun 07,2023
AMMAN-N The International Air Transport Association (IATA) and the United Nations Environment Programme (UNEP) have come together to sign a
May 17,2023
PARIS — The world must halve single-use plastics and slash throwaway consumption to stem the tide of environmental pollution, according to a