You are here
'WFP has enough money to feed Syrian refugees until January'
By Muath Freij - Oct 27,2015 - Last updated at Oct 27,2015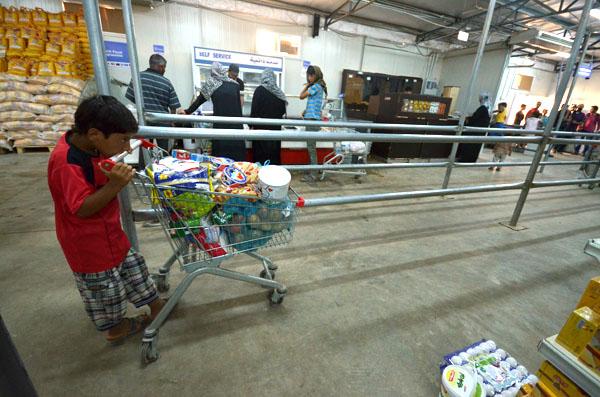 A Syrian refugee pushes a cart filled with food and supplies at a market at the Zaatari camp, some 90km northeast of Amman, recently (Photo by Muath Freij)
AMMAN — The World Food Programme has enough funds to maintain its level of assistance to Syrian refugees in Jordan until January, a WFP official said on Tuesday, voicing optimism that this assistance would be extended until March.
WFP Emergency Coordinator for the Syria Response Operation in Jordan Jonathan Campbell said he is "pretty confident" the UN agency can maintain its support for refugees through March — the end of winter — after a foreign embassy in Amman informally confirmed its plan to provide more support for the WFP to enable it to continue assistance to refugees in need.
"What will happen in the spring I do not know," he told reporters at the UN agency's premises in west Amman.
As a result of contributions from various donors, WFP has been able to reinstate food assistance to vulnerable Syrian refugees who have been without assistance since September this year.
The vulnerable refugees living in Jordanian communities, whose food assistance was cancelled earlier this year, now have their e-cards uploaded with JD10 per person per month.
Furthermore, the WFP has been able to increase the value of its food assistance from JD10 to JD15 to extremely vulnerable refugees. The value of a full voucher is set at JD20.
The programme is funded entirely by voluntary contributions and needs to raise $15 million (approximately JD10.6 million) each month in order to meet the basic food needs of Syrian refugees in the Kingdom.
"At the moment we have 89,000 beneficiaries at the camps," Campbell said.
The WFP official said there are also 438,000 people living in the villages and towns of Jordan that benefit from the assistance.
He noted that the UN agency classified Syrians into three categories based on field visits and specific criteria — "extremely vulnerable, vulnerable and those who are not eligible for having the assistance".
This month, WFP is feeding 212,000 extremely vulnerable refugees and 226,000 vulnerable Syrians.
A total of 95,000 people have been excluded either because they do not need assistance or because they left the country, according to Campbell.
"We are covering right now 85 per cent of the registered refugees [who] are living below the Jordanian poverty line," he added.
Figures he presented showed that 82 per cent of families decreased their food consumption since they stopped receiving assistance.
The consumption-based Coping Strategies Index measures the frequency and severity of coping mechanisms adopted by families to meet basic food needs.
It shows that 75 per cent of families are engaged in more frequent and severe coping strategies to meet their basic food needs since they stopped receiving assistance.
Over two-thirds of families are now restricting consumption by adults for small children to eat. Since the September cuts, 24 per cent of families withdrew their children from school and 29 per cent of families are now sending under-age children to work compared with only 5 per cent before, according to WFP.
Nearly 80 per cent of families now borrow money to pay for basic food needs and 13 per cent are now forced to send at least one family member to beg in order to meet basic needs compared with only 4 per cent before.
Syrian families were asked about their plans if they do not receive WFP food assistance in the future and only 36 per cent stated they would stay in communities and try to make ends meet, according to WFP.
Almost half said they would consider leaving Jordan either for Europe (20 per cent) or back to Syria (26 per cent).
Related Articles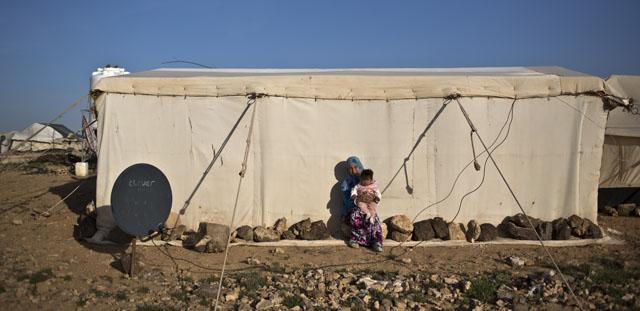 Mar 19,2015
The UN World Food Programme (WFP) has announced that its food assistance for Syrian refugees living in Jordanian communities will be prioritised further to make sure support goes to those most in need.
Oct 16,2014
Around 12,000 Syrian refugee families who have access to sufficient income or support networks to meet their food requirements will no longer be receiving food vouchers from the World Food Programme, a WFP official said Thursday.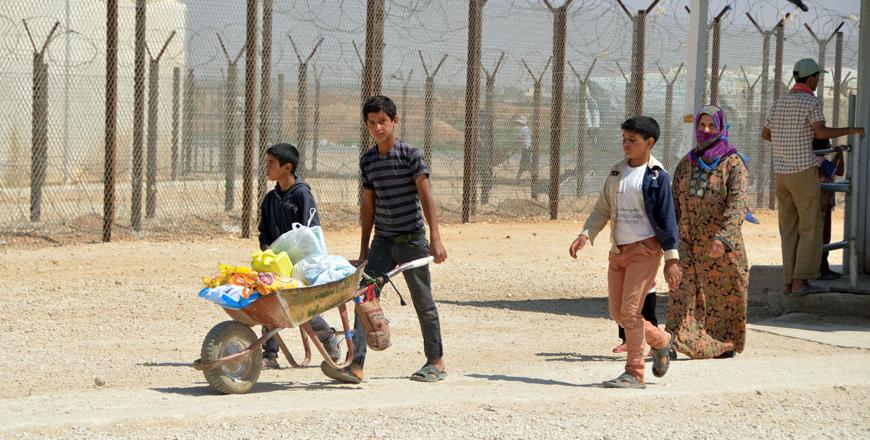 Jan 06,2016
AMMAN — The World Food Programme (WFP) announced on Wednesday that it has sufficient funding to provide food assistance to 526,000 vulnerabl
Newsletter
Get top stories and blog posts emailed to you each day.