You are here
'WFP has funds to continue food aid for Syrian refugees through May'
By Khetam Malkawi - Jan 06,2016 - Last updated at Jan 07,2016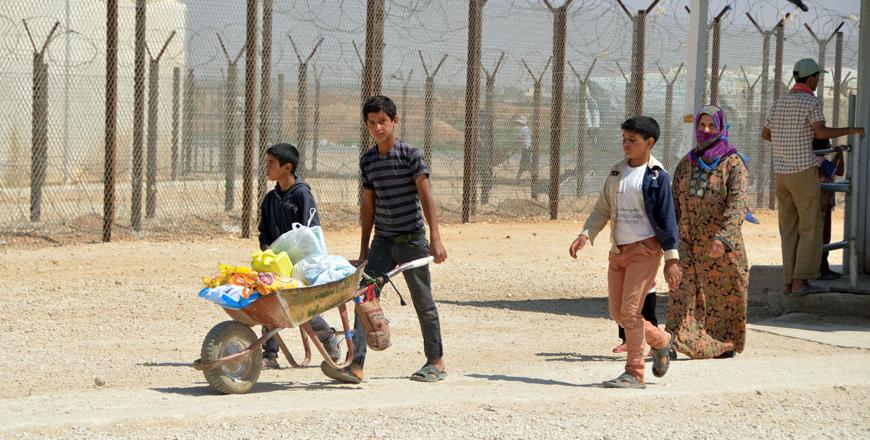 Syrian refugees recently carry food items at the Zaatari Refugee Camp, some 90km northeast of Amman (File photo)
AMMAN — The World Food Programme (WFP) announced on Wednesday that it has sufficient funding to provide food assistance to 526,000 vulnerable Syrian refugees in Jordan for the first five months of the current year.
"This is the first time since December 2013 when we managed to receive enough funding to secure assistance over the next five months," Shaza Moghraby, the WFP's spokesperson in Jordan, told The Jordan Times in an e-mail interview.
Moghraby said the funding was made available through new "generous" contributions from various donors, adding that predictable sources of funding are extremely important, as "hunger can push people to take desperate measures".
"This was so clear in a rapid assessment conducted by WFP in October 2015 that measured the impact of food assistance cuts last September on vulnerable Syrian families in Jordan," she noted.
Moghraby said the assessment showed that after the WFP food assistance was cut, almost half of the families interviewed said they would consider leaving Jordan, either for Europe (20 per cent) or back to Syria (26 per cent), if they did not receive further aid.
In addition, the assessment found that 75 per cent of families engaged in more severe coping strategies to pay for their basic food needs, including withdrawing their children from school, sending underage children to work, and borrowing money or begging.
According to the current funding levels, WFP will be providing JD15 per person per month to almost 210,000 refugees living outside camps classified as extremely vulnerable and JD10 per person per month to 226,000 refugees living outside camps classified as vulnerable until the end of May.
All refugees living in camps will continue to receive the full value of JD20 per person per month to meet their food needs, according to Moghraby.
Highlighting the food assistance programme's impact on the local economy, the WFP official noted that "since the start of voucher operations, WFP has injected over $428 million into the Jordanian retail economy".
Share the meal
In November 2015, the WFP launched the "Share the Meal" initiative, which is an application enabling people to donate using smartphones and to "share their meals" with children in need.
"We are currently raising funds to feed children who have fled the conflict in Syria to Jordan. This is the fifth year away from home for many Syrian children and their families, who are in dire need," Moghraby said, adding that "our current goal is to provide school snacks to 20,000 Syrian children in refugee camps in Jordan for a full year".
She noted that following the global launch of the "ShareTheMeal" app, "250,000 people have downloaded the app and donated more than 3.6 million meals".
According to the initiative's website (sharethemeal.org), it costs $0.5 for the WFP to feed one child for a day: "This is the global average cost, which may vary depending on the region and situation. If actual costs are lower than $0.5 per child and day, monies are, of course, used to feed additional children."
"Food assistance in developing countries is usually significantly less expensive than in high-income countries," the website added.
Related Articles
Jun 15,2016
AMMAN — The World Food Programme (WFP) said on Tuesday that its financial status this year is better than previous years, thanks to the resp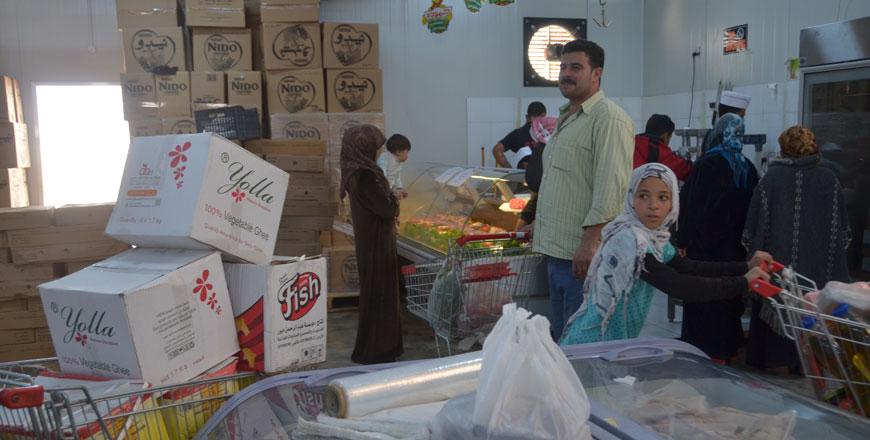 Jun 03,2015
AMMAN — The World Food Programme (WFP) on Wednesday voiced concern about the impact of a potential cut in food assistance to Syrian refugees
Dec 01,2014
The United Nations World Food Programme (WFP) on Monday announced that it has been forced to suspend a critical programme providing vouchers to more than 1.7 million Syrian refugees in neighbouring countries including Jordan.
Newsletter
Get top stories and blog posts emailed to you each day.