You are here
Woman gives blind children ability to communicate through Braille literacy classes
By Sawsan Tabazah - Apr 15,2018 - Last updated at Apr 15,2018
Sara Abu Ali teaches Braille literacy to children with visual impairment in Jordan (Photos courtesy of Lughatna Gheir initiative)
AMMAN — A blind woman is helping other people with visual impairment integrate socially and academically by teaching them Braille (a reading and writing system that uses touch to decipher raised dots on paper representing the letters of the alphabet).
Born blind, Sara Abu Ali, 23, strongly believes that people with visual impairments who do not learn Braille in early childhood stages are less likely to integrate in public schools and to perform well academically.
"There are a few schools specifically for blind people in Jordan, but not all families are financially capable of sending their kids there. So parents tend to send their kids to public schools where they do not receive any Braille literacy education," Abu Ali told The Jordan Times.
Although the Ministry of Education's curriculum is available in Braille for all grades, students do not necessarily know how to read Braille, therefore facing many challenges in their studies, the founder of the "Lughatna Gheir" initiative said.
She launched the initiative in February 2018 with a first group of learners who are not only blind but also suffer from learning difficulties.
People with disability represent 13 per cent of the Jordanian population, with only 21 per cent of them receiving education, the Higher Council for the Affairs of People with Disabilities' Director of Integrative Education Department Lubna Ajlouni told The Jordan Times, noting that no specific study or figure exists on the number of people with visual disability in the Kingdom.
Regionally, blind people constitute 4 per cent of the Middle East population, while 8.7 per cent are visually impaired, president of the Jordanian Ophthalmological Society Samir Mulki said.
Abu Ali is currently teaching six blind students from Abdullah Ibn Um Maktoum School for the Blind in Amman aged between 7 and 10 years old, who come from underprivileged areas to learn Braille literacy.
The students' academic performance and social skills have greatly improved in a "relatively short time" since Abu Ali started giving those lessons, teacher Alia Massaeed recalled.
"The kids enjoy the time they spend outside the school, she understands them and their needs… she gives children the opportunity to playfully explore reading and writing. One of the students who used to be shy and antisocial has started talking and engages more in classroom activities," she rejoiced.
The initiative is sponsored by Bab Al Khair organisation, which provides a lecture room for Abu Ali to give her classes.
Abu Ali now intends to expand her initiative to reach more students, with plans to expand it to deaf and mute people through sign language. She said it is one the many steps to be taken to better integrate people with disability in society.
up
24 users have voted, including you.
Related Articles
Jul 24,2016
AMMAN — Students and recent graduates from across the Arab world are helping to enhance the academic experience of blind students in Jordani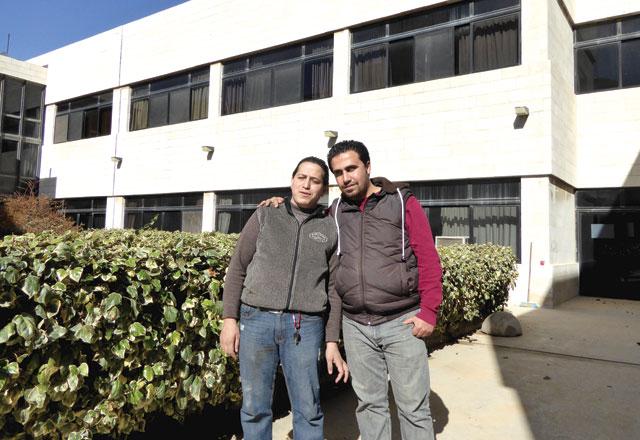 Mar 17,2015
In December last year, a small group of sighted and blind students at the University of Jordan put their hands together to develop a project assisting classmates with visual impairments in their graduate studies. 
Mar 17,2015
Salma waits at the exit of the kindergarten in Abdoun, where she works as a director for children with disabilities, for an interview with The Jordan Times. 
Newsletter
Get top stories and blog posts emailed to you each day.