You are here
Women's increasing workplace participation mainly due to financial need — economist
By Dana Al Emam - Mar 14,2017 - Last updated at Mar 14,2017
AMMAN — Some social norms are key hindrances to women's participation in the labour market, and further efforts are needed to raise societal awareness and highlight successes, experts agreed on Tuesday.
At a panel held by the Young Entrepreneurs Association (YEA), they agreed that the current economic situation must act as a catalyst for women's work participation in order to boost economic growth.
Rani Khoury, an economist at To Excel Consulting, presented a study on the social norms influencing women's participation in the labour market, noting that traditional gender roles based on the binary of internal and external hemispheres are still present among both men and women.
While men and women view women's work as "secondary and complimentary to men's work", some of the constricting norms view men who "allow" their female relatives to work outside the home as "incapable of providing for them", according to the study Khoury presented.
He pointed to a finding that some employers hire women to perform low-skilled jobs because they accept lower salaries, while recent advancements in women's participation were due to families' financial needs, rather than to women's desires for independence and self-realisation.
Also, surveyed men and women generally preferred teaching as a profession for women as a day-time job with limited working hours, compared to other professions with night shifts, long working hours or interaction with men.
YEA Chair Lina Hundaileh said the clear identification of the challenges facing women across the country was the first step towards addressing them, adding that factors hindering women's participation in the labour market in Amman were different from those women face outside the capital.
"Equity is no longer a luxury, as women's participation in the workforce is necessary for developing the society and the economy," she said, noting that activists and civil society organisations working to advance women's participation must come up with "untraditional" options to address the issue.
For her part, Reem Badran, Amman Chamber of Commerce board member and chairperson of the board of directors at the National Microfinance Bank, described the statistics of women's participation in the labour force in Jordan as "shameful", with only 13.2 per cent of women working outside the home, despite women making up over 55 per cent of university students.
She cited a statement by the International Monetary Fund saying that Jordan is wasting a significant opportunity to develop its national economy by not properly addressing women's participation in the labour force, noting that if Jordanian women's participation reached international rates, the gross domestic product would grow by 1 per cent.
In addition, Badran cited another form of discrimination, giving the example of one company which gave an additional allowance of up to JD100 per month to male workers who head families, while refusing to grant a similar allowance to women.
Nadia Al Saeed, general manager of Bank Al Etihad, said women workers do not need workplaces that favour them at the expense of their male colleagues, but rather workplaces that do not discriminate against them.
By providing a "fair, merit-based" work environment with incentives to both men and women, the bank witnesses the "high" commitment of women workers, she noted.
Meanwhile, Judge Ihsan Barakat, Jordan's first woman attorney general, general inspector and court president, said her male colleagues have expressed "severe" objections to her appointment in the three senior judicial positions, because she is a woman.
She noted that women comprise 19 per cent of judges and are known to be less corrupt and to pay more attention to details that men could possibly disregard.
Barakat argued that labour regulations have to be revised, particularly articles on daycare centres, adding that civil organisations working in the field are responsible for monitoring institutions' compliance with regulations.
up
33 users have voted, including you.
Related Articles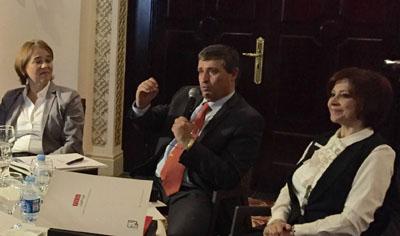 Nov 16,2015
AMMAN — The average rate of women's participation in the economy amounts to only 14 per cent, with increases registered in the badia, govern
Dec 21,2014
Private sector institutions should further implement policies that boost gender equality and diversity in the workplace, according to field experts.
May 08,2014
Efforts should be geared towards improving the workplace environment in order to increase women's participation in the labour market, academics said on Thursday.
Newsletter
Get top stories and blog posts emailed to you each day.