You are here
Work to move goods from Jordanian-Syrian free zone continues
By Raed Omari - Apr 09,2015 - Last updated at Apr 09,2015
AMMAN — Investors and traders are now moving their remaining goods from the unstable Syrian side at the Jaber-Nasib free zone into secure Jordan under the protection of the army, a sector leader said on Thursday.
Jordan Free Zones Investors Commission President Nabil Rumman said Jordanian staff at the Jordanian-Syrian free zone have been working for three days to move goods from the Syrian side into the Jordanian side under the protection of the Jordan Armed Forces-Arab Army.
"The remaining goods are being moved over fears of new security developments in Syria similar to those that took place last week," Rumman told The Jordan Times.
Following the Free Syrian Army's (FSA) seizure of the Nasib border crossing with Jordan last weekend, rebels belonging to the opposition have been reportedly stealing goods stored at the Jordanian-Syrian free zone.
Last Wednesday, Jordan closed its Jaber border crossing with Syria for security reasons.
Rumman also said that the Jordanian-Syrian free zone had goods worth around $200 million before the FSA took over the Nasib crossing, adding that the value of stolen goods stands at around $100 million.
"All vehicles parked at the free zone have been stolen. All that was light and valuable has been stolen, while heavy-weighted items remain untouched," he added.
"Things being moved to the Jordanian side now are marble, steel and wood."
Related Articles
Apr 05,2015
Jordan is ready to act even outside its territory in case of a possible external security threat, Interior Minister Hussein Majali reiterated on Sunday.
Apr 04,2015
An official at the Jordan Free Zones Investors Commission on Saturday estimated the losses resulting from violence and looting at the Jordanian-Syrian Free Zone at more than JD100 million.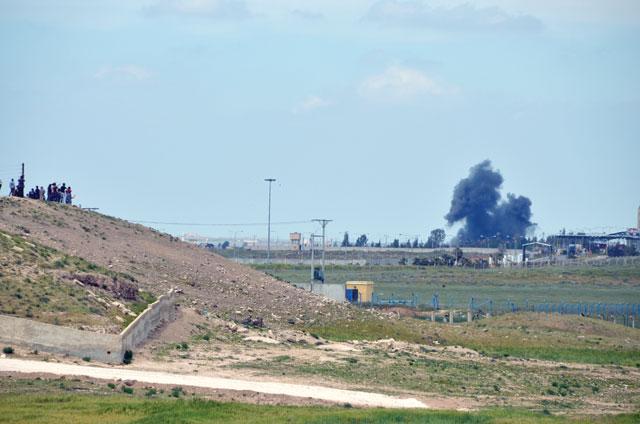 Apr 02,2015
A number of Jordanian truck drivers complained that their goods and trucks were stolen from the Jordanian-Syrian border by people claiming they were members of the so-called Free Syrian Army on Thursday. 
Newsletter
Get top stories and blog posts emailed to you each day.