You are here
World Cup Ball brings spirit of football to Jordan
By Camille Dupire - May 22,2018 - Last updated at May 22,2018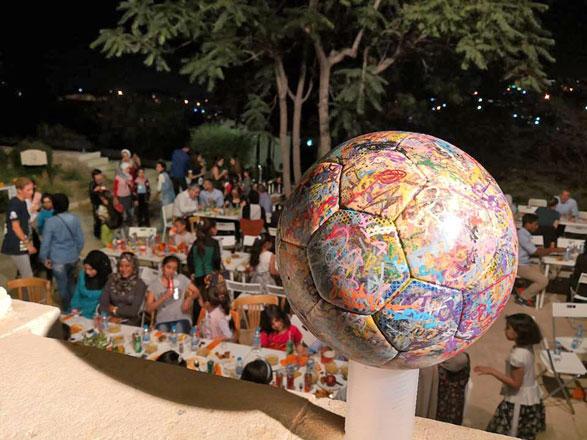 The Ball 2018 is being signed by thousands of people across the world to promote the values of fair play, humanity and empathy (Photo courtesy of Spirit of Football)
AMMAN — A football travelling across the world to highlight the role of football in helping displaced people find a new home and build new communities on Saturday arrived in Jordan, for a six-day stopover as part of the "One Ball, One World" initiative.
"After being welcomed on board by the captain who signed it, The Ball just landed in Jordan where it encountered the friendliest customs officials ever," rejoiced the project's organisers Spirit of Football, posting selfies of The Ball with airport officials.
The Ball went on to be part of an Iftar (fast breaking meal) gathering members of the German embassy in Amman and CARE international, who celebrated "the power of The Ball in connecting all kinds of people and spreading the love, respect, community and a special spirit of connectivity", in partnership with the organising partner Equal Playing Field (EPF).
"From its founding moment, football was based on the notions of inclusion and participation. The initiative of Spirit of Football and EPF is following and intensifying this tradition," said cultural attaché at the German embassy Jaime Sperberg, adding "football stands for playing together, for trying to win without harming the other from the opposite team. Football also stands for a peaceful world with generally accepted rules, which is the foundation of every society."
"Therefore, it is very important that we not only speak about values like fairness, mutual respect, honesty, equality and others, but that we act to carry into effect these values," he told The Jordan Times, voicing the embassy's pride to support the "One Ball, One World" project scheduled at Azraq refugee camp, as "it helps to convey and strengthen such values".
During the welcoming event held at the Royal Film Commission premises in Amman, The Ball was welcomed by over 100 people, including 45 young girls who came to play with The Ball, embodying the values of gender equality in sports supported by EPF and HRH Prince Ali.
Every four years since 2002, the Ball has been going around the world as the football equivalent to the Olympic Torch, celebrating not only a symbol of fair play but also inviting people from all walks of life to share in the joy of participation by engaging them directly and indirectly to the World Cup, according to The Ball's website.
Instead of being passed from hand to hand like the torch, The Ball's is played with in as many kick–abouts and games of football as possible along the way to the host country, through education workshops, integration activities, among others.
In Jordan, Spirit of Football's curriculum "One Ball, One World" is being implemented at the Azraq refugee camp in cooperation with the UN Refugee Agency, according to Associate External Relations Officer for UNHCR Emmanuel Kenyi, who expressed "great happiness" over a successful first day.
"We had refugees in the camp, including children sign the World Cup Ball, just like thousands of other people across 15 countries," he told The Jordan Times, noting that The Ball was also welcome with a joint artwork reflecting a message of love, respect, optimism and shared dreams.
Featuring fair play football, music, art, dance and theatre activities, The Ball 2018 explores the theme of "empathy" through the experience of displaced people, the journeys that they have needed to make and the challenges they face once they have found refuge, according to Spirit of Football.
"We highlight the extraordinary work that is being done using football to help these people find a new home and build new communities," the organisers continued, stressing "by deploying our 'One Ball One World' initiative in schools and communities on the way, we want to ensure that The Ball 2018 leaves a lasting legacy and extends the impact of the World Cup beyond the borders of the host country, Russia."
Throughout its journey, The Ball is bringing participants from previously warring nations together in Kosovo and is kicked and signed by homeless people in Croatia. It will also be used to run integration workshops with Syrian refugees and host communities in Lebanon and Turkey before attempting to enter Russia through Georgia, The Ball website read.
Liverpool FC Manager and former professional player Jürgen Klopp voiced his support to the initiative by saying: "This ball is a fantastic icon for the current situation. How simple things would be if we could all just orientate ourselves around The Ball. Whoever sees my signature [on The Ball] can feel a little better for a moment because he knows that he is surrounded by friends, and when he too signs it he becomes a member of our team. I would be happy if you too would join our team."
Every four years, The Ball kicks off from Battersea Park in London, where the very first game of modern rules football was played in 1864. This year, the fair trade ball handmade in Pakistan passed through Belgium, Germany, Austria, Croatia, Serbia, Kosovo, Bulgaria, Greece and Turkey, before arriving to Jordan.
It will then continue its busy journey through Lebanon, Turkey and Georgia, before making it on time for the 2018 FIFA World Cup opening ceremony in Moscow, Russia on June 14.
Related Articles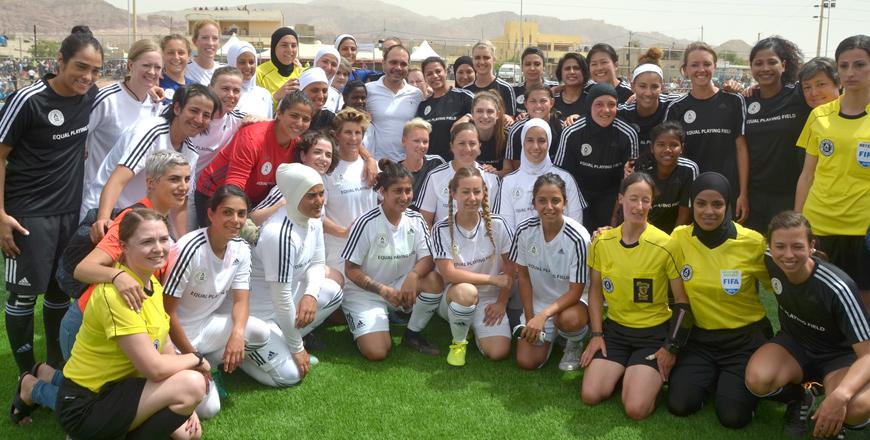 Apr 05,2018
Female players participate in a friendly women football match at the Dead Sea, the lowest point on earth located over 400 metres below sea l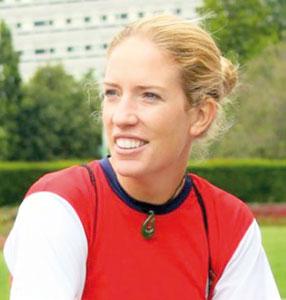 Mar 13,2017
AMMAN — For Erin Blankenship, love of football and respect for equality go hand -in-hand, especially when it comes to women in sport. I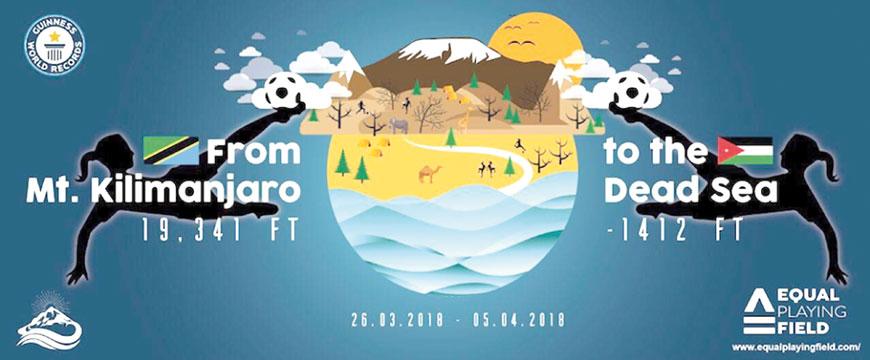 Mar 26,2018
AMMAN — The women football match to be held at the Dead Sea next month will "send a message to change society's perceptions about wome
Newsletter
Get top stories and blog posts emailed to you each day.