You are here
World University Service of Canada publishes new gender toolkit
By Batool Ghaith - Jun 17,2021 - Last updated at Jun 17,2021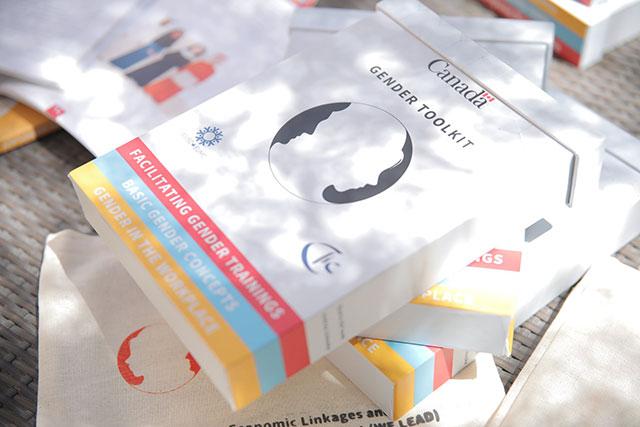 World University Service of Canada (WUSC) has published a new Gender Toolkit which is one of the Women's Economic Linkages and Employment Development (WE LEAD) Project's key milestones funded by Global Affairs Canada (GAC) (Photo courtesy of WUSC Facebook page)
AMMAN — World University Service of Canada (WUSC) and the Canadian Leaders in International Consulting (CLIC) have jointly published a new Gender Toolkit which is one of Women's Economic Linkages and Employment Development (WE LEAD) Project's key milestones funded by Global Affairs Canada (GAC).
At the launching event of the toolkit in Amman on Wednesday, Niveen Bataineh, WUSC Jordan Country Director, mentioned that unemployment rates among women in Jordan have risen significantly, reaching 32.8 per cent in the last quarter of 2020, according to the World Bank, which led to a drop in women's participation in the workforce in Jordan from 16 per cent to approximately 14 per cent, which is one of the lowest rates in the world.
Bataineh indicated that the toolkit aims to increase women's economic participation in the Jordanian labour force.
"The idea emerged from the immense need to produce Arabic material related to gender that is contextualised to the Jordanian community. In partnership with our partners at all levels; public sector, private sector, community-based organisations and the local communities, and through our work in the past four years, our team and partners have garnered invaluable experiences that we wanted to document in a one-stop-toolkit," Bataineh said during the launching event.
Bataineh noted that in the past two years, approximately 476 women have received vocational training within the health sector as part of the project, mainly in Irbid, Salt and East Amman.
Through the toolkit, WUSC seeks to fulfil all needs related to the gender field for partners and local communities, and to invite them to add their diverse expertise to this toolkit at the national and regional levels, Bataineh added.
Bataineh said that the toolkit tackles the challenges women face in the work environment and in society in general as they try to get into the workforce, such as lack of options for safe and reliable transportation which discourages women from seeking employment, along with limited access to quality childcare services and more.
"We are collaborating with national partners to raise awareness on gender barriers in transportation. Also, we have launched model daycare facilities in addition to developing an accredited early childcare development training programme," Bataineh added.
She noted that WUSC also works on promoting inclusive work environments, facilitating gender-sensitivity workshops, engaging with stakeholders on the importance of women entering the workforce, and advocating for policy and behaviour change.
Rawiah Naoum, WE LEAD Project Manager, explained that the gender toolkit includes three main components based on the project needs. These are "Facilitating Gender Trainings", "Basic Gender Concepts" and "Gender in the Workplace".
"The first component targets trainers who would give trainings on gender-related topics from a strategic level. The second briefly explains basic concepts related to gender, women empowerment, sexual harassment, and other concepts in a contextualised manner that suits the region and Jordanian society's needs," Naoum continued.
The third book targets business owners, which gives them the space to rethink their working environment, and how to make it more productive, yet inclusive for everyone, according to Naoum.
"What makes this toolkit stand out is that it is comprehensive, and it includes theoretical as well as practical components, videos, brainstorming exercises and case studies from the local communities. It also showcases several statistics from local and international sources," Naoum said.
Concluding the launching event, Naoum indicated that WUSC will train all of its partners at all levels on the Gender Toolkit.
"We will use this toolkit to fulfill the needs of our partners in the field of gender, and we hope that they will also develop it and improve it by contributing their various experiences both nationally and regionally," she said.
Newsletter
Get top stories and blog posts emailed to you each day.