You are here
25 dead as Damascus loyalists clash with Kurdish-led forces
By AFP - Sep 26,2023 - Last updated at Sep 26,2023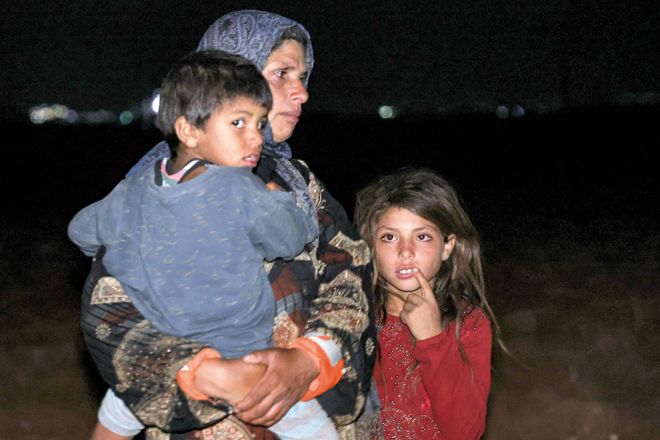 A woman stands carrying a boy next to another girl in the aftermath of Syrian government forces' bombardment, at a camp for those displaced by conflict in Sarmin in the rebel-held part of Syria's northwestern Idlib province late on Saturday (AFP photo)
BEIRUT — Fighters loyal to the Syrian government have clashed with Kurdish-led forces in a mainly Arab district of eastern Syria, leaving 25 people dead in two days, a war monitor said on Tuesday.
The Kurdish-led Syrian Democratic Forces (SDF), who are backed by Washington, said they had "driven out the regime gunmen who had infiltrated the Dheiban area" of Deir Ezzor province in the gun battles which erupted on Monday.
Earlier this month, the same area saw 10 days of fighting between the SDF and armed Arab tribesmen in which 90 people were killed.
Britain-based monitor the Syrian Observatory for Human Rights said the latest clashes erupted when pro-government fighters crossed the Euphrates River, which separates pro-government forces in southwestern Deir Ezzor from the SDF in the northeast.
It said 21 of the dead were Damascus loyalists and three were SDF fighters. A woman was also killed.
The SDF said the loyalist fighters had crossed the Euphrates "under cover of an indiscriminate bombardment" of its positions.
The SDF riposted by bombarding the right bank of the river which is controlled by government troops with support from Iran-backed militias, the Observatory said.
The clashes earlier this month erupted after the SDF's arrest in late August of a local Arab military commander who had previously been an ally.
The SDF said at the time that it had driven out the detained commander's supporters among the area's Arab tribes.
It insisted the dispute was an entirely local one and not the result of any wider rift between its Kurdish-dominated forces and the Arab communities which form a majority in some areas under its control.
Washington, which has several hundred troops deployed in SDF-held areas of Deir Ezzor, including in the province's valuable oilfields, deployed mediators to engage with SDF commanders and Arab tribal leaders to try to avert any wider conflict.
The Kurds form a majority in the core areas of SDF control in northe-astern and northern Syria. But in several areas which they captured in their US-backed campaign against Daesh, Arabs form the majority.
SDF leader Mazloum Abdi announced after the end of the earlier fighting that he had asked Arab tribal leaders to contact rebel tribesmen and assure them that his forces would grant amnesty to those who had been detained.
According to the Observatory, which has a wide network of sources inside Syria, some of the Arab fighters who fled to government-held territory after the previous clashes took part in this week's assault.
The SDF was Washington's main Syrian ally in its fightback against Daesh, which culminated in the jihadists' defeat in their last Syrian foothold on the left bank of the Euphrates in 2019.
Related Articles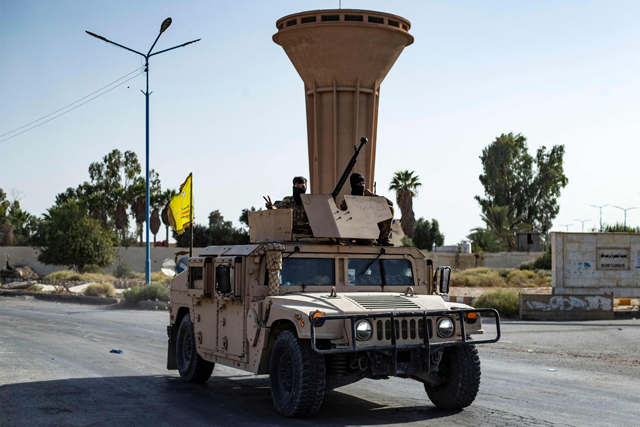 Sep 06,2023
BEIRUT — US-backed Kurdish-led forces in Syria declared the "end of military operations" in the country's east Wednesday after days of clash
Apr 29,2018
BEIRUT — Rare clashes broke out on Sunday between Syrian regime forces and a US-backed alliance in the east of the country, killing a total
Nov 07,2018
BEIRUT — At least 45 Daesh group fighters have been killed around their last enclave in Syria despite a pause in a two-month Kurdish-led ass