You are here
Al Nusra tries to reassure Druze after shoot-out
By AFP - Jun 13,2015 - Last updated at Jun 13,2015
BEIRUT — Al Qaeda's Syria affiliate said on Saturday it would prosecute members involved in an shoot-out in northwest Idlib province that killed at least 20 members of the country's Druze minority.
In an official statement published on Twitter, Al Nusra Front sought to allay fears of further attacks on minorities, saying that some of its members acted "in clear violation of the leadership's views".
On Thursday, residents of the village of Qalb Lawzah protested after a Tunisian Al Nusra leader tried to seize a Druze man's home, accusing him of being loyal to the Syrian regime, the Syrian Observatory for Human Rights said.
"The Tunisian leader gathered his men and accused the Druze residents of the village of blasphemy and opened fire on them killing at least 20 people, among them elderly people and at least one child," said observatory head Rami Abdel Rahman.
In its statement, Al Nusra said it had immediately despatched a committee to Qalb Lawzah to "reassure the residents that what happened was unjustifiable".
Related Articles
Jun 11,2015
BEIRUT — Syrian rebels seized most of a military airport in regime-controlled Sweida province Thursday and shot down a warplane nearby, a sp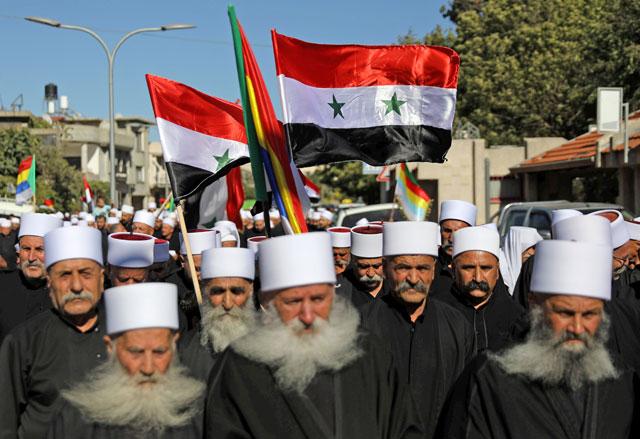 Jul 30,2018
BEIRUT — Syria's Druze minority, targeted by deadly Daesh group attacks and kidnappings last week in Sweida, had managed to keep itself rela
Jun 22,2015
OCCUPIED JERUSALEM — Israeli Druze blocked an Israeli army ambulance they believed was transporting wounded Syrian rebels on Monday, local a
Newsletter
Get top stories and blog posts emailed to you each day.