You are here
Amnesty International: Israel using 'unlawful' force in Jerusalem
By AFP - May 11,2021 - Last updated at May 11,2021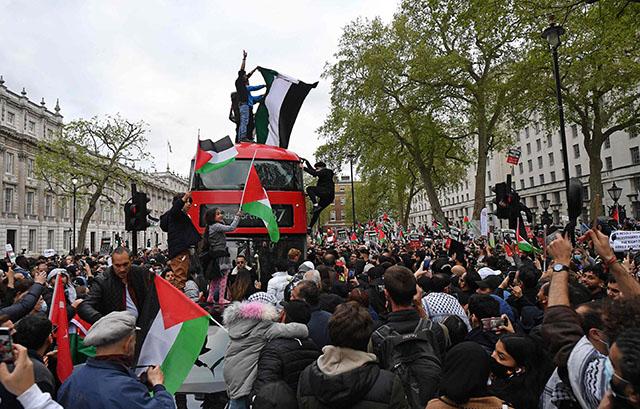 Pro-Palestinian protesters stop a London bus as they participate in a demonstration against Israeli attacks on Palestinians after at least 28 people were killed following clashes over the flashpoint Al Aqsa Mosque in Jerusalem, in central London, on Tuesday (AFP photo)
OCCUPIED JERUSALEM - Amnesty International said Israel is using "abusive and wanton force against largely peaceful Palestinian protesters" in East Jerusalem clashes that have wounded hundreds of demonstrators and dozens of police.
Israel on Tuesday firmly defended the conduct of its officers, insisting they have responded to violent Palestinian rioters with appropriate measures.
But the London-based human rights group described some of those measures as "disproportionate and unlawful", accusing security forces of "unprovoked attacks on peaceful demonstrators".
Amnesty's statement came amid surging tension in Israeli-annexed Jerusalem, much of it concentrated at the flashpoint Al Aqsa Mosque compound, Islam's third holiest site.
At Al Aqsa and in clashes elsewhere in east Jerusalem, police used stun grenades, rubber bullets, tear gas and skunk water cannons in response to Palestinians who hurled stones, bottles and fireworks at officers.
Amnesty said Israel has used excessive force over multiple weeks of East Jerusalem protests.
In one incident, it said Israeli forces last week broke up a peaceful circle of Palestinians chanting against an attempt by Israelis to evict them from their homes in the city's Sheikh Jarrah district.
Forces on horseback sprinted towards the crowd, trampling a man who was trying to run away, Amnesty said.
The rights group called on the international community "to hold Israel accountable for its systemic violations".
The group Save the Children, also based in London, said it was "horrified" by the Israeli air strikes and demanded a stop to "the indiscriminate targeting and killing of civilians".
Meanwhile, the use of force by Israel must be "proportionate" in response to rockets fired by the Islamist Hamas movement following several nights of violence in Jerusalem, a French minister said on Tuesday.
"Quite clearly, we call for a proportionate use of force by the Israeli authorities," deputy foreign minister Jean-Baptiste Lemoyne told French lawmakers.
France will "continue to work" to ensure a political solution to the crisis and the underlying Palestinian conflict, he added.
"These events show that a political solution is needed, and with regards to this we will never take a back seat," he said.
Foreign Minister Jean-Yves Le Drian added in a statement that "all participants must demonstrate the utmost restraint and avoid all provocations or incitement to hate, in order to end the violence whose primary victims are the Palestinian and Israeli populations".
Le Drian has discussed the escalating violence over East Jerusalem with his Jordanian counterpart Ayman Safadi.
"The ministers expressed their deep concern about the threats of forced evictions for residents of the Sheikh Jarrah district of East Jerusalem, which are fuelling the tensions," the statement said.
On the other hand, the United Nations rights office said on Tuesday it was "deeply concerned" by the escalation of violence in the occupied Palestinian territories, East Jerusalem and Israel.
The Office of the UN High Commissioner for Human Rights appealed for calm after several days of unrest.
"We are deeply concerned at the escalation of violence in the occupied Palestinian territory, including east Jerusalem, and Israel in the past days," Rupert Colville, spokesman for UN rights chief Michelle Bachelet's office, told reporters in Geneva.
"We condemn all violence and all incitement to violence and ethnic division and provocations."
He urged Israeli security forces to allow "the right to freedoms of expression, association and assembly".
"No force should be used against those exercising their rights peacefully."
Newsletter
Get top stories and blog posts emailed to you each day.