You are here
Court overturns Mubarak verdict, orders retrial
By AFP - Jan 13,2015 - Last updated at Jan 13,2015
CAIRO — An Egyptian court on Tuesday overturned former president Hosni Mubarak's conviction on corruption charges and ordered a retrial, but the ex-strongman remained in detention pending a judicial order.
Supporters of the 86-year-old broke into cheers and chanted "Long Live Justice!" as the Court of Cassation in Cairo announced its decision, which concerns the last remaining of a series of charges laid against Mubarak following his 2011 ouster.
Another court in November dropped murder charges against Mubarak over the deaths of protesters during the uprising, which ended his three decades of autocratic rule.
If Mubarak walks free it would spur accusations against President Abdel Fattah Al Sisi that the former army chief is reviving the Mubarak era — something he has sought to deny.
A lower court had convicted Mubarak and handed him a three-year jail sentence last May on charges that he embezzled money earmarked for the maintenance of presidential palaces.
It had also given four-year jail sentences to the toppled leader's sons, Alaa and Gamal, whose convictions were overturned as well on Tuesday. Four other defendants in the case were acquitted.
The Court of Cassation did not specify on Tuesday whether Mubarak was a free man following its judgement and did not set a date for a retrial.
State media quoted a security official saying the ousted leader would remain in detention absent a judicial order for his release.
His lawyer Farid Al Deeb told AFP that Mubarak ought to be released as he "has already served" three years in detention, including the time he spent in custody awaiting trial.
But Deeb said that for now Mubarak would remain in the military hospital where he currently receives treatment.
In 2011, there were mass protests demanding Mubarak's prosecution after he retired to a mansion in the Red Sea resort of Sharm Al Sheikh following the Arab Spring uprising that forced him from power.
'Double-edged sword'
He was detained two months later and ordered to stand trial.
In the murder case, the court ruled that prosecutors should not have added Mubarak's name to the list of defendants, after originally charging only his security chiefs.
The seven security commanders, including feared former interior minister Habib Al Adly, were all eventually acquitted.
The ruling sparked a rare protest in central Cairo, leading to clashes with police that left two people dead.
"The possible release of Mubarak is a double-edged sword for the Sisi administration," said Issandr El Amrani, the North Africa director for the International Crisis Group think tank.
"On the one hand there is a group of Egyptians and Egypt's foreign backers in the Gulf who might welcome it," he said.
"On the other hand, this regime which is vulnerable to attacks that it is a continuation of the old regime, also has to keep in mind the symbolism of seeing Mubarak go free."
Sisi ousted Mubarak's Islamist successor Mohamed Morsi in July 2013 and launched a deadly crackdown that has left more than 1,400 people dead.
Thousands more, mostly Islamist supporters of Morsi, have been imprisoned, and dozens sentenced to death after mass trials which the United Nations says is "unprecedented in recent history".
Human rights group say that Sisi has been even more autocratic than Mubarak.
The crackdown that initially targeted Morsi supporters has also jailed several leading youth leaders who campaigned against Mubarak during the 2011 revolt.
Several Mubarak-era officials have made a comeback and the once reviled police have regained popularity.
Washington, meanwhile, has slowly warmed again to its ally, after it initially lashed out at Sisi's crackdown on Morsi's supporters.
The United States delivered 10 Apache helicopters last month after lifting part of a freeze on aid.
Washington annually allocates some $1.5 billion in aid to Egypt, including $1.3 billion in military assistance it temporarily froze in 2013.
Related Articles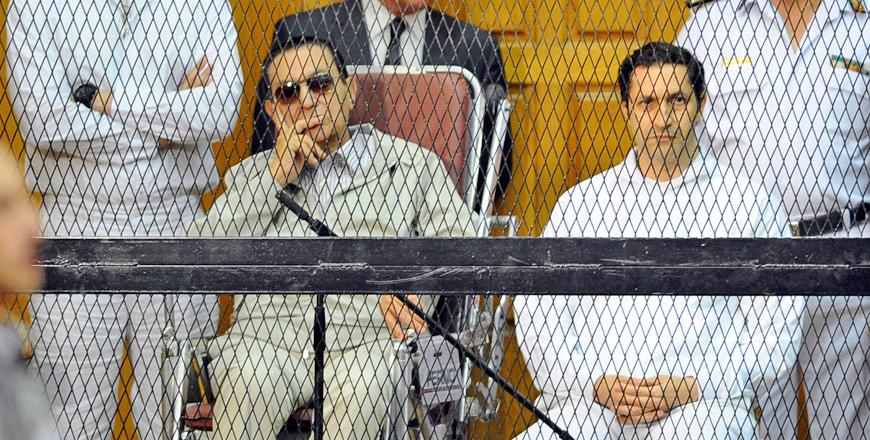 Oct 12,2015
CAIRO — An Egyptian court Monday ordered the release of ousted president Hosni Mubarak's two sons who were sentenced to three years in jail
Jan 24,2015
Two sons of Egypt's ousted leader Hosni Mubarak seen as symbols of his era's corruption were freed from prison on Friday pending a graft retrial, state media reported.
Feb 05,2015
An Egyptian court Wednesday sentenced to life 230 activists from the 2011 revolt against long-time president Hosni Mubarak, including leading campaigner Ahmed Douma, judicial sources said.
Newsletter
Get top stories and blog posts emailed to you each day.