You are here
Egypt acquits former Mubarak minister of corruption
By AFP - Jun 12,2014 - Last updated at Jun 12,2014
CAIRO — An Egyptian court acquitted former Hosni Mubarak interior minister Habib Al Adly of corruption Thursday in a retrial after he had been sentenced to 12 years in 2011.
In March 2013, a cassation court had ordered the retrial of Adly, who had been convicted of money-laundering and illicitly enriching himself.
The charges were linked to the sale of land owned by Adly. He tasked police officials with finding a buyer who would pay the highest possible price.
The disgraced ex-minister, who ran Mubarak's security services for more than a decade before a popular uprising overthrew the strongman in 2011, will remain in detention.
Adly was widely unpopular because of abuses committed by his security agents, and rights groups said the torture of suspects was commonplace during his term in office.
In February, a court upheld a three-year jail sentence handed to Adly for taking advantage of his position and forcing police conscripts to work on his private property.
Along with Mubarak, he had been sentenced to life in prison in 2012 over the killings of protesters in the 2011 uprising. A court overturned the verdict on technical grounds and they are now being retried along with six police commanders.
An official enquiry into deaths during the revolt found at least 846 civilians and 26 police officers were killed.
Adly also stands accused in a separate trial on charges of illicit gains worth 181 million Egyptian pounds (around $25 million, 18 million euros). The next hearing in the trial will take place on September 18.
In May, Mubarak received three years in prison on corruption charges, while his two sons Alaa and Gamal each received four-year terms.
They were accused of embezzling more than one hundred million Egyptian pounds earmarked for the maintenance of presidential palaces.
But the trials of Mubarak and his officials have been overshadowed by the charges against Islamist president Mohamed Morsi, ousted in July by ex-army chief Abdel Fattah Al Sisi, the country's new president.
Thursday's ruling comes days after Sisi was sworn in as president. His opponents say he is bent on establishing an autocratic regime worse than the one instituted by Mubarak.
Since Morsi's ouster, a government crackdown targeting his Islamist supporters has left more than 1,400 killed in street clashes and seen at least 15,000 jailed.
Hundreds have also been sentenced to death in speedy mass trials that have triggered an international outcry.
up
23 users have voted, including you.
Related Articles
Mar 19,2015
An Egyptian court Thursday acquitted an interior minister of ousted president Hosni Mubarak of corruption charges, in the last in a string of cases he faced, his lawyer and state media said.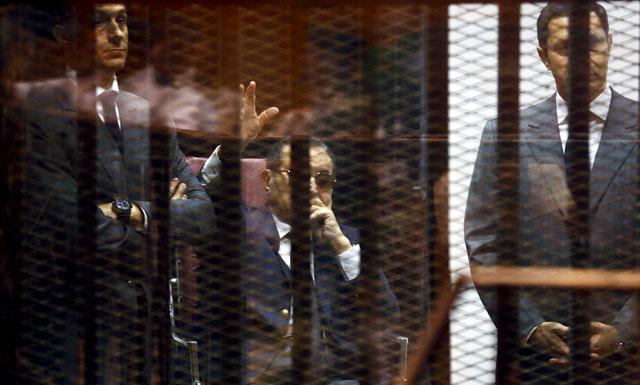 May 09,2015
An Egyptian court sentenced ousted president Hosni Mubarak and his two sons to three years in prison on Saturday after a retrial for embezzlement.
Jan 13,2015
An Egyptian court on Tuesday overturned former president Hosni Mubarak's conviction on corruption charges and ordered a retrial, but the ex-strongman remained in detention pending a judicial order.
Newsletter
Get top stories and blog posts emailed to you each day.