You are here
Final evacuation from rebel-held Damascus district — governor
Agreement allows Syria's government to declare control over Qabun, Tishrin and Barzeh
By AFP - May 29,2017 - Last updated at May 29,2017
DAMASCUS — More than 1,000 people quit a rebel-held district of Damascus on Monday, its governor said, in the final phase of a deal bringing Syria's government closer to controlling the entire capital.
The evacuations from the northern neighbourhood of Barzeh are part of a so-called "reconciliation" agreement for three opposition-held districts of Damascus.
Under such deals, fighters and civilians are granted safe passage to other rebel-held territory in exchange for an end to bombardment and siege.
The agreement has allowed Syria's government to declare control over the Damascus districts of Qabun and Tishrin, and on Monday the last evacuees left Barzeh.
"The last phase of the reconciliation deal for Barzeh is complete, with the departure of 1,012 people including 455 armed men," Damascus governor Beshr Assaban told state news agency SANA.
"This will allow state institutions to return to the neighbourhood," Assaban said.
The agreement was struck earlier this month and had already seen more than 5,000 people — nearly half of them rebels — leave Barzeh in several waves.
Like the thousands who left Qabun and Tishrin, they will head to opposition-controlled territory in northern Syria.
There are now only a handful of areas in Damascus that remain outside government control.
Rebels hold part of the heavily damaged Jobar district in the east, and in the south, the Tadamun and Hajar Al Aswad neighbourhoods as well as the Palestinian refugee camp of Yarmuk are now mostly controlled by extremists.
The evacuation deals follow a pattern of similar agreements in towns and villages around Damascus, as well as in third city Homs.
The government says the deals are the best way to end the six-year war, but the opposition says this amounts to forced displacement.
Damascus has been insulated from some of the worst violence of Syria's war, which has killed more than 320,000 people since it began with anti-government protests in March 2011.
But the government has made securing control of the last remaining rebel districts in the capital a key priority.
Related Articles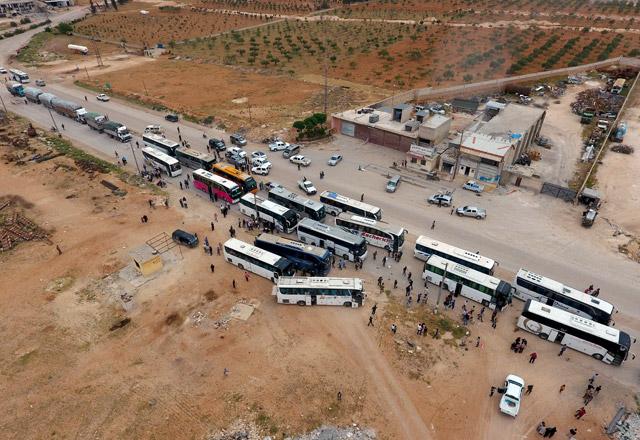 May 07,2017
DAMASCUS — Negotiations were under way on Sunday on evacuating insurgents and their families from two districts in Damascus, a Syrian milita
Feb 21,2017
BEIRUT — Syrian government forces on Monday escalated their bombing campaign around Damascus, raining shells down on rebel territory and sen
May 14,2017
AMMAN — More than 1,500 rebels and their family members left the devastated district of Qaboun on the edge of the Syrian capital Damascus af
Newsletter
Get top stories and blog posts emailed to you each day.