You are here
Gaza's health ministry says Israel launched deadly strike on Indonesian Hospital
By AFP - Nov 20,2023 - Last updated at Nov 21,2023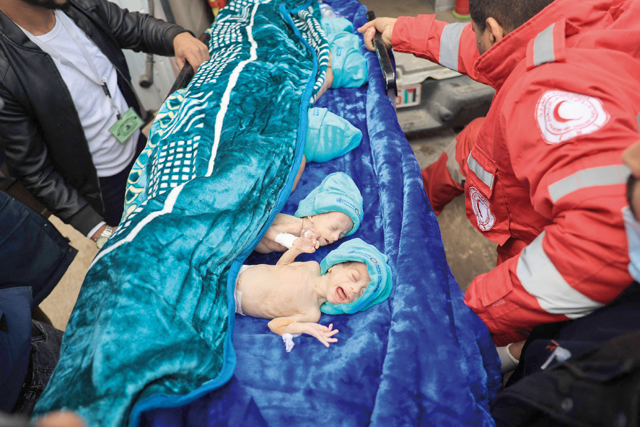 Palestinian medics prepare premature babies, evacuated from Gaza City's Al Shifa hospital, for transfer from a hospital in Rafah in the southern Gaza Strip to Egypt, on Monday (AFP photo)
GAZA STRIP, Palestine — Gaza's health ministry said on Monday Israeli forces had struck the Indonesian Hospital and killed at least 12 people, including patients, in the north of the war-torn Palestinian territory.
Dozens more were wounded and around 700 people remained trapped inside the "besieged" medical centre, said Ashraf Al Qudra, a spokesman of the ministry which has reported a death toll of more than 13,000 in Gaza.
The latest reported blow to Gaza's devastated health sector came as hopes rose that 31 premature babies evacuated from another hospital, Al Shifa, would be taken from a Gaza clinic to safety in Egypt through the Rafah crossing.
Frantic diplomatic efforts were meanwhile underway to seal a deal for the release of some of the hostages. Mediator Qatar voiced hope on Sunday that an agreement was near, but Israel and Hamas have not yet reported that a deal is imminent.
The bloodiest ever Gaza war has reduced much of the coastal strip to rubble and seen Israeli troops raid, occupy and evacuate the biggest hospital, Al Shifa, in recent days, which saw hundreds flee the area on foot toward southern Gaza.
After another Gaza building was hit, in Deir Al Balah south of Gaza City on Sunday, rescuers searched through the debris for survivors and bodies, using the lights of their mobile phones in the rain.
"There are only children and women in the house and no one else," exclaimed one resident. "How can that give them [the Israeli army] an excuse to hit it?... We don't have any equipment to pull people out from under the rubble."
Bodies on the road
Alarm has surged over the dire humanitarian situation as the war rages into a seventh week.
The Israeli offensive has killed more than 13,000 people, including thousands of children, according to the Hamas-run government, fuelling mounting global pressure for a ceasefire.
The UN humanitarian agency OCHA has described a "collapse of services" at hospitals across northern Gaza, amid shortages of electricity, fuel and medical supplies.
The hospital has been a focal point of global concern after Israeli forces launched a raid on it last week, with the World Health Organisation calling it "a death zone".
Over the weekend, hundreds fled the Al Shifa hospital on foot as loud explosions were heard around the complex. At least 15 bodies, some decomposing, were strewn along the route, an AFP journalist said.
The Indonesia Hospital is located near the Jabalia refugee camp, where on Saturday a health official said more than 80 people were killed in twin strikes, including on a UN school sheltering displaced people.
The Gaza war has sparked fears of a wider conflagration in the Middle East where Israel has long faced arch enemy Iran and its allies.
Related Articles
Nov 17,2023
GAZA STRIP, Occupied Palestine — Israel renewed its attack on Thursday on Gaza's largest hospital, targeting what it claimed was a Hamas com
Nov 23,2023
GAZA STRIP, Palestine — A doctor at Gaza's largest hospital Al Shifa told AFP that the facility's director and several other medical personn
Nov 19,2023
GAZA STRIP, Palestine — Health ministry in Gaza said more than 80 people were killed Saturday in twin strikes on a northern refugee camp in