You are here
Germany, France hold back NATO, EU ambitions in Libya
By Reuters - May 26,2016 - Last updated at May 26,2016
In this four-picture combo, people try to jump in the water right before their boat overturns off the Libyan coast, on Wednesday. The Italian navy says it has recovered a few bodies from the overturned migrant ship off the coast of Libya, while some 500 migrants who were on board were rescued safely (AP photo)
BRUSSELS — Europe's bold intentions to support Libya's new UN-backed government are faltering as France and Germany resist a bigger role to rebuild the failed state, scarred by the West's 2011 air campaign to help topple dictator Muammar Qadhafi.
The European Union and NATO have said they stand ready to help the unity government in Tripoli, if requested, to combat smugglers sending migrants into the Mediterranean towards Europe. Tripoli, for its part, faces a threat from Daesh militants who exploited past conflict between rival governments to extend their power.
In a letter, Libyan Prime Minister Fayez Sarraj sent a broad request for security training, but Germany and France want the United Nations to move first. Western diplomats in New York say they will have to work hard to secure Russia's support as it accuses the West of going too far in Libya in 2011 and tensions are at their highest since the end of the Cold War.
While there is "no sense that Russia would veto", a UN Security Council resolution, according to a senior Western diplomat, Germany has also suggested that the NATO alliance may need an invitation from the European Union to help in Libya.
"Europeans now have what they asked for, namely a unity government ruling from the capital," said Mattia Toaldo, a Libya expert at the European Council on Foreign Relations. "They should take care not to burden it with unrealistic demands, from ending the migrant crisis to defeating [Daesh]."
Germany is wary of a long-term commitment, scaling back the language in a statement by European Union foreign ministers this week by insisting the bloc seeks UN Security Council approval to stop arms trafficking even on the high seas, diplomats said.
That reflects Germany's long-standing need for a UN mandate for military deployments abroad.
France has sent special forces and military advisers to Libya, and France's defence minister has repeatedly called for the EU naval mission to move into Libyan territorial waters.
But French diplomats in Brussels are more cautious about a big NATO role, despite a warning last month from EU Foreign Policy chief Federica Mogherini that some 450,000 refugees in Libya could flee to Europe.
Deployment of NATO combat troops are out of the question.
"We are looking at a support role, one that is low profile," said a senior French official involved in Libya policy. "The risks are very real and our resources modest."
The remarks contrast with gathering momentum a month ago at EU and NATO headquarters in Brussels and a special dinner of EU foreign and defence ministers in Luxembourg in which Libyan maritime and security missions were on the table.
"The situation is apparently not grave enough for us to act," said a senior NATO diplomat. "We need a real crisis."
Just 480 kilometres from Europe's coast, Libya's slide into anarchy over the past five years has made it an outpost for Daesh militants and a staging post for sub-Saharan African migrants aided by traffickers.
But the failure of the West's 2011 intervention still weighs on Western officials, even as the United States urges the Europeans to take a bigger role in securing its neighbourhood.
"Washington tells us Europe's southern border ends in the Sahara, not in the Mediterranean," said an EU defence official.
'security vacuum'
Britain and the US want a much bigger role for both NATO and the European Union. US Secretary of State John Kerry has urged NATO to link up with the EU's naval mission "Sophia" in the Mediterranean to tackle smugglers.
Lawmakers in Britain say the EU's naval mission in the Mediterranean is too limited to have an impact on smugglers, as it is too far out to destroy boats, catch traffickers or head off migrants trying to reach Europe by sea from Libya.
"A mission acting only on the high seas is not able to disrupt smuggling networks, which thrive on the political and security vacuum in Libya, and extend through Africa," a British parliamentary report said this month.
Alain Le Roy, the secretary general of the EU's foreign service, defended the Sophia mission, saying that more than 80 traffickers had been arrested and up to 200 boats destroyed.
EU foreign ministers have approved training of Libya's navy and coast guard in international waters. Sophia's chief, Italian Rear Admiral Enrico Credendino, told La Repubblica on Wednesday the coast guard could be trained in 14 weeks.
On the ground, the US and Italy, Libya's former colonial power, are leading calls for action, but Kerry said at a meeting of major powers in Vienna last week with Seraj: "we're not talking about troops and boots".
Germany does not want its personnel on Libyan soil but is willing to revive an EU border guards programme in Tunisia.
Related Articles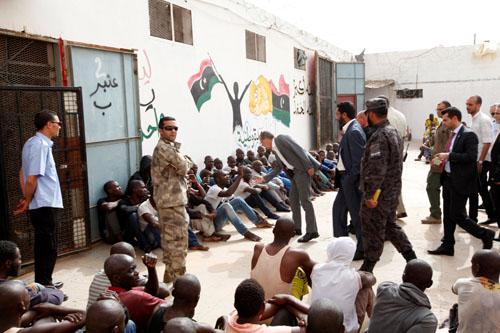 May 22,2016
TRIPOLI – Libyan coastguards said they intercepted seven vessels on Sunday carrying around 850 African migrants trying to reach Europe illeg
Jan 18,2017
BRUSSELS — The European Union needs to reach a deal with Libya to curb the flow of migrants trying to sail on smugglers' boats to Italy, Mal
Oct 27,2016
BRUSSELS ­­— The European Union has begun training the Libyan coastguard as part of efforts to curb the growing influx of irregular
Newsletter
Get top stories and blog posts emailed to you each day.